AdvaMed recognizes that its members, particularly those with global government affairs responsibilities, are tracking COVID-19 related developments around the world to assess the public health and economic impacts on their businesses. Knowing that companies are consuming information from a variety of sources, AdvaMed's global team would like to provide members with a weekly snapshot of the key statistics, policy developments and advocacy initiatives underway in our priority markets.  If you have any suggestions, we welcome your feedback.
Global
Weekly COVID-19 statistics- global cases reached 20.7 million, nearly a 2 million increase over the previous week. Deaths around the world exceeded 750,000. The countries with the most reported cases continue to be the U.S. (5.2 million), Brazil (3.1 million), and India (2.4 million). As a whole, Latin America has been one of the worst affected regions, with more than 5 million reported cases to date.
U.S. cases exceeded 5.2 million with deaths increasing to 166,777.
Staff Contact: Ralph Ives (

[email protected]

)
China
Weekly COVID-19 statistics –localized outbreaks in Xinjiang (in China's northwest) and Liaoning province (in China's northeast) have reportedly stabilized, with both regions reporting fewer daily new cases over the previous week. The government has touted its aggressive quarantine measures and mass testing of local populations. In Xinjiang, a remote region with hospitals not as well equipped as more developed provinces, the government has been touting the role of traditional Chinese medicine in helping patients to recover. China's total COVID cases now stand at 89,114 and deaths at 4,699.
In light of these recent outbreaks, the State Council has called for urgent preparations to combat the virus during the autumn and winter months. Priority measures include: enhanced customs inspections (notably of "carrier" foods like fresh seafood imports), more efficient and accurate nucleic acid testing platforms, and more rigorous management of quarantined areas.
Beijing has reported no new cases for several days and is planning to soon re-open the Xinfadi wholesale market, the source of localized outbreak in June. To date, the city has reported a total of 335 cases linked to the market and no deaths. Meanwhile, Beijing has announced a staggered start to the city's numerous colleges and universities over the next month, in an effort to minimize mass gatherings.
While the Chinese government reported better than expected economic figures for the second quarter, the steep drop in demand for Chinese exports and financial system risks pose continuing challenges. Consumption also remains below pre-COVID levels. The NDRC has said it would aim to boost consumption in the intelligent retail, online education and home appliance sectors, as well as offer subsidies for new energy vehicle purchases.
As part of its ongoing response to the COVID threat, the government is emphasizing the role of traditional Chinese medicine (TCM) as a therapeutic remedy. TCM clinics are to increase their supply of PPE and carry out nucleic acid tests.
Hospitals have resumed elective/regular surgeries for a few months now and medical services are back to normal for the most part. Planned hospital admissions appear to be at 80-90% of pre-COVID levels, with this range varying by particular medical condition of the patient and geographical area.
China is continuing to allow an increased number of inbound flights from overseas. The vast majority of passengers on these flights are returning Chinese nationals, as the Chinese government has not relaxed its entry ban on foreigners.
While U.S.-China relations remain in a downward trajectory, the Phase One trade deal remains intact and has emerged as a key area of cooperation. Chinese state firms continue to sign several large contracts for U.S. farm products, particularly soybeans. USTR Lighthizer and Vice Premier Liu He are to meet virtually this weekend or early next week to review China's six-month progress to date.
Staff Contact: Kyle Churchman (

[email protected]

)
India
India
Japan
Weekly COVID-19 statistics – 53,315 reported cases and 1,090 reported deaths compared to 45,006 reported cases and 1,048 reported deaths the previous week.
The number of cases in Japan has grown by 50% in the past two weeks. Despite these growing numbers, Prime Minister Abe said he will not reinstate emergency measures.
The growing caseload has had a severe impact on Japan's hospitals. Some hospitals are cutting back or halting elective surgeries in order to deal with the influx of new cases. Nearly 70% of Japan's hospitals are now operating in the red.
The majority of new cases are in Tokyo and are affecting people in their 20s and 30s.
Japan and Vietnam have agreed to ease bilateral travel restrictions in stages. Vietnam will first accept 440 Japanese business travelers on three charter flights. The travelers will be required to undergo tests upon arrival and be quarantined for two weeks at hotels. Thailand will likely be next in line for eased restrictions, followed by Australia and New Zealand.
Japan currently has an entry ban in place for 111 countries and regions, with foreign travelers who have been to any of those areas within the last two weeks being turned away.
Japan's Ministry of Health has adopted priority regulatory review procedures for new COVID-related medical devices.
Japan will ban foreign companies from purchasing advanced medical device companies that are deemed essential to the national security in the fight against Covid-19. This measure is based on concerns about China but applies to companies from all countries. The government aims to ensure stable supply of essential devices that are vulnerable to contamination by infection, such as implants and dialyzers.
Staff Contact: Phil Agress (

[email protected]

).
Korea
South Korea's new daily cases have increased to 56. Obviously, this is a low number compared to most countries, but there is some concern that the figures have remained very sticky around this range and are not going down further. There are 14,770 cases, 648 active with 305 deaths. The good news is there are no deaths per day being reported.  
Korea continues to exhibit one of the lowest global death rates from COVID at just 2.4%. 
Health authorities stated today that the COVID crisis in South Korea is at a more critical phase than it was in May due to continued local spikes linked to small gatherings. Authorities are concerned that they have less ability to track these events and that they are seeing signs that cases without symptoms or with mild symptoms are remaining undetected and spreading throughout the local communities.
China has begun to receive visa applications from South Korea students and jobseekers, making Korea the first country for China to normalize visa issuance and entry procedures post-COVID.
South Korean exports of information and communications technology products increased for the second consecutive month in July. According to the Ministry of Trade, Industry and Energy, Korea's value of ICT exports in July increased by 3.3 percent on-year to reach $14.99 billion. Imports during the same period also grew by 1.2 percent at $9.86 billion, resulting in a trade surplus of $5.13 billion.
South Korea's flag carriers Korean Air and Asian Airlines surprised the market last week by posting an operating profit in the second quarter, while major airlines across the world suffered heavy losses due to the pandemic. Korean Air reported an operating profit of 148.5 billion won ($125.2 million) while Asiana saw its figure top 100 billion won, both owing to their robust cargo businesses and transition of some passenger capacity to cargo. This is surprising given that many US and European carriers showed extremely high losses during the same period.
Korea unveiled a financial package to inject 40 trillion won ($33.8 billion) into 1,000 selected innovative businesses over the next 3 years. The plan is designed as the final piece necessary to finalize and align the so called "Korean New Deal" incentives which are so far worth 160 trillion won and enable those companies to have unlimited loan credit when borrowing from the Korea Development Bank.
The South Korean government announced Thursday it will create at least 50 new job categories in the upcoming years, while providing necessary legal and fiscal support to tide over the worsening employment situation. It also pledged to inject 4.6 trillion won ($3.89 billion) into export-oriented service industries and adjust the government's fiscal support regulations which have been focused on the manufacturing sector.
The ruling Democratic Party's support rating has fallen behind that of the conservative opposition United Future Party for the first time in nearly three years. In a recent survey, the ruling party's support rating came to 33.4 percent, down 1.7 percentage points from the previous week, while that of the United Future Party rose 1.9 percentage points to 36.5 percent. The gap remains relatively small, but this is the first time the Democratic Party has been overtaken by a conservative party since October 2016, when the political arena became mired in the scandal that led to former President Park Geun-hye's impeachment.
Korea's Center for Disease Control stated that even after a vaccine is developed, there will be no immediate change to antivirus rules, as people will still have to wear masks and maintain social distancing. "At this point, what I want to stress is that after a safe vaccine is secured sufficiently and administered safely, there will be a no change in everyday quarantine," KCDC Deputy Director Kwon Jun-wook said at a briefing Thursday. "No vaccine can guarantee 100 percent safety (against the coronavirus)."
Travelers from "high-risk" countries — Bangladesh, Pakistan, Kazakhstan, and Kyrgyzstan – are to submit certificates issued within 48 hours proving they tested negative for the coronavirus. Those without proof of the negative test result will not be allowed to board flights to Korea and could face deportation when they arrive. Even with the proof, they still need to self-quarantine for two weeks either at home or at designated facilities, depending on their visa status, and seek testing for the virus within three days of their arrival. The Philippines and Uzbekistan have more recently been added to the list of high-risk countries.
South Korea maintains its 2-week quarantine for all other incoming international travelers and a requirement for all inbound flights to check passengers' temperatures. Anyone with a temperature over 37.5 degrees Celsius (99.5 Fahrenheit) is denied entry. Korea has not issued any guidance on an exemption that is supposedly available.  Korea has indicated all US inbound travelers will be tested for symptoms prior to being moved to quarantine.
Korea appears to be moving toward implementation of a proposal that would potentially reduce the price of certain cardiac stents. AdvaMed is in touch with members and the medtech association in Korea and will be having some preliminary discussions with the US Government on this topic. Please contact Joseph Gatewood (

[email protected]

) if you have an interest in this matter and are not already engaged.
Resources: http://ncov.mohw.go.kr/en/. 
Staff Contact: Joseph Gatewood (

[email protected]

).
ASEAN
Weekly COVID-19 statistics – ASEAN now has 350,027 reported cases and 8,669 reported deaths compared to 306,644 reported cases and 7,900 reported deaths the previous week.
The Philippines and Indonesia account for 97% of the deaths from COVID-19 in the region. Indonesia's total COVID-19 deaths exceed 5,900, the highest level in East Asia.  The Philippines reports 2,462 deaths.
Cambodia, and Laos have each reported zero deaths, while Brunei has reported 3 deaths, Myanmar has reported 6 deaths, Singapore has reported 27 deaths (despite having over 50,000 cases), and Thailand has reported 58 deaths. All of these totals are unchanged from the previous week.
Following a huge surge in cases, the Philippines has now passed Indonesia as the ASEAN country with the most COVID-19 cases. The Philippine is in the midst of a two- week lockdown in and around Manila, the center of the outbreak, but this is not likely to be extended when it expires. Surgeries will be for emergency cases only.
Vietnam experienced a significant outbreak in Danang following 100 days without any locally transmitted cases. This led to its first COVID-19 fatalities (20 reported to date). The government has re-imposed strong stay-at-home requirements and non-essential business closures in Da Nang, and 80,000 tourists have been evacuated from the city.
Singapore reported continued growth in new COVID-19 cases, mainly among foreign worker dormitory residents. The government reported 942 new cases.
Elective surgeries have resumed in Thailand and Vietnam.
In Indonesia, provincial hospitals are resuming elective surgery with COVID-19 protocols in place.
Malaysia maintains limits on elective surgery except in emergency cases.
Singapore restricts most elective surgeries but allows certain procedures including cancer screening, surgical operations for advanced cataracts, flu vaccinations, and dental procedures.
Indonesia has lifted the ban on export of medical devices for COVID-19 purposes. At the same time, President Jokowi has called for an end to PPE imports as the country is capable of manufacturing them locally. Indonesia has produced its own rapid test called RI-GHA COVID-19. 
Malaysia and Singapore partially reopened their border on August 10. Both governments have agreed to implement a Reciprocal Green Lane (RGL) and Periodic Commuting Arrangement (PCA). The RGL will enable cross-border travel for essential business and official purposes between both countries and the PCA will allow residents of Singapore and Malaysia who hold long-term immigration passes for business and work purposes in the other country to enter the country for work.  
Malaysia is also holding talks to create a "green zone" for travel with Brunei, Thailand, New Zealand, Australia, Japan, and South Korea. 
Singapore and China began a "fast-lane" travel arrangement for official and business purposes between the two countries. Singapore is in discussion with other countries such Japan, New Zealand, and South Korea on similar arrangements. 
The Thai Government adopted a fifth phase of lockdown easing, allowing most daily activities and businesses to resume.  It has lifted the ban on international flights and allows certain categories of individuals from Japan, China, South Korea, Hong Kong, and Singapore to enter the country. The Civil Aviation Authority will still apply stringent international travel restrictions preventing the entry of tourists.
Thailand's Centre for Covid-19 Situation Administration (CCSA) approved another extension of the state of emergency nationwide until August 31.
Staff Contact: Phil Agress (

[email protected]

)
Europe 
Europe continues to improve overall, but there are spikes this week in France, Spain and Germany. The UK is down a bit and Italy and Belgium are showing only slight increases. Spain leads the EU in cases and the UK leads the EU in deaths, followed by Italy and France. Although not in the EU, Russia's reported numbers on COVID are problematic. Russia remains the COVID hot spot in Europe, now reporting 907,758 cases, with just 15,384 reported deaths.  By comparison, Italy, with much fewer (251,713) cases, reports 35,225 deaths. Russia's response and condition remain a concern for EU countries who are looking to reopen borders.

Spain, Italy, France and UK are showing increases in new cases as well as cases per million and deaths. Germany remains stable at a lower level than other EU countries.
New daily cases, which tends to show which countries are increasing in COVID incidence is as follows:  Spain 3,172 2,953 (up from 2,953 from last week); Italy 476 (up from 401 last week) Germany 1,320 (up from 390 last week)); France 2,669 (up from 1,694 last week); UK 1,009 (up from 891 last week); Belgium 388 (up from 334 last week), Russia 5,102 (down from 5,204 last week).  Most countries are experiencing spikes in new cases. France's level is its highest since emerging from lockdown.
New deaths per day (which tend to lag any increased infection rates) remain low and are as follows:  Spain 3; Italy 10; Germany 8; France 17; UK 20; Belgium 6. Overall trends remain positive in most of the EU, with some persistent and even slightly increased infection rates. The UK deaths per day have decreased significantly from last week, most of the other listed countries are increasing slightly or staying the same (Belgium).
The EU prohibition against inbound travelers from the US, Russia and Brazil based on COVID concerns remains in place. Inbound travel is permitted from any of 15 approved countries and the list will be updated every two weeks. Spain has implemented stay at home orders to four million residents of Catalonia. France has made face masks compulsory in all enclosed public spaces and appears likely to implement local lockdowns. In Italy, police have closed several popular tourist spots in Rome and clubs that violated social distancing rules have been closed. Belgium has seen a rise in infections and is not proceeding with its planned next phase of re-opening which was to have gone into effect on August 1. Ireland has issued a statement discouraging all 'non-essential inbound travel'.  
The Commission will support 23 new research projects with €128 million in response to the continuing coronavirus pandemic. The funding under Horizon 2020, the EU's research and innovation programme, is part of the Commission's €1.4 billion pledge to the Coronavirus Global Response initiative, launched by President Ursula von der Leyen in May 2020.
The 23 projects shortlisted for funding involve 347 research teams from 40 countries, including 34 participants from 16 countries outside of the EU. The funding will enable researchers to address the pandemic and its consequences by strengthening the industrial capacity to manufacture and deploy readily available solutions, develop medical technologies and digital tools, improve understanding of behavioral and socio-economic impacts of the pandemic, and to learn from large groups of patients (cohorts) across Europe. These research actions complement earlier efforts to develop diagnostics, treatments and vaccines.
The Commission said it has concluded preliminary talks with Johnson & Johnson to buy upfront 200m doses of a potential Covid-19 vaccine.
The Commission is currently negotiating grant agreements for new projects under this framework that will cover:  

Repurposing manufacturing for rapid production of vital medical supplies and equipment needed for testing, treatment and prevention – for instance using injection molding and additive manufacturing (3-D printing), adaptive production and supply chain methods, and repurposing manufacturing as a service network for fast reaction.
Developing medical technologies and digital tools to improve detection, surveillance and patients' care – for example through the development of new devices for faster, cheaper and easier diagnosis (including remotely) plus new technologies to protect healthcare workers.
Analyzing behavioral and socio-economic impacts of the responses of government and public health systems, for instance on mental health, including gender-specific aspects in risk factors and the socioeconomic burden, to develop inclusive guidance for policymakers and health authorities and enhance preparedness for future similar events.
Learning from large groups of patients (cohorts) by connecting existing cohorts in the EU and beyond to assess their exposure to certain risk factors to better understand the possible causes of disease in order to improve responsiveness to the virus and future public health threats.
Enhancing collaboration of existing EU and international cohorts by networking research institutions that are collecting data on patient care to enable studies into patient's characteristics, risk factors, safety and effectiveness of treatments and potential strategies against coronavirus.

The WHO has warned that there is growing evidence that young people may experience long term adverse consequences from contracting COVID.
The WHO this week downplayed the danger of the coronavirus latching on to food packaging and urged people not to be afraid of the virus entering the food chain.
Russia's claim that it has developed a coronavirus vaccine have been met with skepticism in the US and Europe. On Wednesday, Germany's health minister expressed concern that it had not been properly tested. "It can be dangerous to start vaccinating millions… of people too early because it could pretty much kill the acceptance of vaccination if it goes wrong," Jens Spahn told local media. "Based on everything we know… this has not been sufficiently tested," he added. "It's not about being first somehow – it's about having a safe vaccine." Isabelle Imbert, a researcher at the French National Centre for Scientific Research in Marseille, said promising a cure too early could be "very dangerous". "We do not know the methodology or the results of their clinical trials," she told Le Parisien.
The European Court of Justice has struck down the EU-US Privacy Shield law based on arguments from an EU plaintiff that the US security laws did not sufficiently protect EU citizens. Commerce Secretary Wilbur Ross expressed 'deep disappointment' in the ruling and said he would work with the EU to limit any negative consequences. AdvaMed is finalizing arrangements for a virtual meeting/discussion with the Dept. of Commerce to obtain the latest information on the ECJ decision and for our industry to alert them to potential issues. We will send out a notice to members to attend the (virtual) session when we have a confirmed date and time.
The European Commission has approved, under EU State aid rules, a €2 billion plan by Italy to support the trade credit insurance market in the context of the coronavirus outbreak.
The UK Treasury has rejected NHS requests for more than £1 billion to fund thousands of extra beds this winter, as hospital chief execs decried that the government's promise to give the health service all necessary funds appears to have ended.
A leading Trust has said that NHS England's ambitions for 'near normal' service levels this autumn are unlikely to be achieved, with current poor performance for waiting times for elective surgery, diagnostics and cancer treatment all expected to continue.  
A trial of the English coronavirus app is getting under way. It will be limited only to a small number of UK residents in selected areas at first. The app will be available in Apple and Google's online stores, but users will need to enter a code to activate it. The software will tell users to self-isolate for 14 days/nights if the app detects they have been close to someone else diagnosed with the virus. The app contains an alert system that informs users of the coronavirus risk level close to their home, and a QR barcode scanner, so users can check in when they visit a venue and be told if others there later tested positive
A leading media outlet reports that New Zealand is 'very frustrated' at the slow progress on a post-Brexit trade deal with the UK. There appears to be little progress on the negotiations of both the EU/UK and the US/UK trade agreement.
PM Johnson has said the UK 'will be ruthless' with even its closest partners over COVID 19 quarantine rules. The UK has in recent weeks imposed a 14-day quarantine on arrivals from Spain and Belgium.
The UK has been permitting both equipment service personnel and health care workers to come into the country and avoid quarantine restrictions. There are different requirements for different situations, so please let Joe Gatewood (

[email protected]

) know if you need assistance figuring out your situation.
ABHI is conducting a comprehensive analysis of the re-start of elective procedures in each Trust and Health Board in the UK. The results can be found here: https://www.abhi.org.uk/membership/members-area/updates/2020/july/the-restart-of-planned-care/.
Germany's levels of new cases are the highest that they have been since May 1. The German Health Minister noted that there has been a significant rise in infection rate amongst younger people. He indicated this was troubling because it could indicate a wider spread throughout the population. There has been an imposition mandatory testing for those coming back from overseas vacations from 'high risk' areas.
Bavaria's premier has been forced to apologize over an embarrassing delay to thousands of coronavirus test results, just as Germany was seeing a new spike in virus cases. Some 44,000 people who took advantage of free coronavirus tests in the southern German state have had to wait more than a week for their results. These included around 1,000 who tested positive.       Nine hundred have now been identified and were being informed after officials worked through the night to clear the backlog. Many of those tested were travelers returning to Bavaria and other parts of Germany after their holidays.
Paris and several other cities have now implemented mandatory mask wearing in busy public streets and squares. Masks remain mandatory in France in indoor public spaces.
Latin America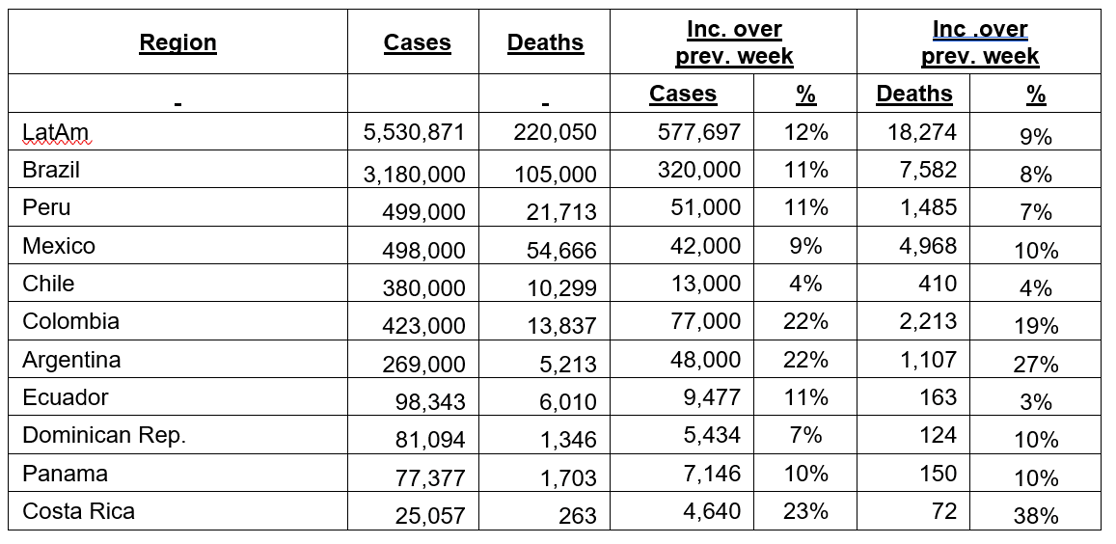 Regional
Total COVID-19 cases up 12% and deaths up 9% over the previous week.
Weekly Highlights –COVID 19
Argentina: Strong focus on social agenda after an agreement was reached with private bondholders.
Bolivia: Despite the call for a national dialogue, discontent persist due to election date postponement.
Brazil: Government shifts positions as economic recovery headlines agenda.
Chile: Economic reactivation moves forward as virus speed lowers.
Colombia: Authorities estimate that peak of contagion is currently underway.
Ecuador: Ecuador achieved an agreement to restructure its external debt.
Mexico: An agreement for medicines and vaccines at low prices was signed between PAHO and IMSS.
Paraguay: Reported shortages of COVID-19 testing kits accelerated public tenders to procure them.
Peru: New Ministerial Cabinet sworn in after Congress rejects confidence vote; Health Minister to retain its position.
Uruguay: Government increase control measures on Brazilian border.
Staff Contact: Steven Bipes (

[email protected]

)