AdvaMed recognizes that its members, particularly those with global government affairs responsibilities, are tracking COVID-19 related developments around the world to assess the public health and economic impacts on their businesses. Knowing that companies are consuming information from a variety of sources, AdvaMed's global team would like to provide members with a weekly snapshot of the key statistics, policy developments and advocacy initiatives underway in our priority markets.  If you have any suggestions, we welcome your feedback.
Global
Weekly COVID-19 statistics- global cases reached 22.4 million, nearly a 2 million increase over the previous week. Deaths around the world exceeded 750,000. The countries with the most reported cases continue to be the U.S. (5.5 million), Brazil (3.4 million), and India (2.8 million). As a whole, Latin America has been one of the worst affected regions, with more than 5 million reported cases to date.
U.S. cases exceeded 5.5 million with deaths increasing to 173,193
Staff Contact: Ralph Ives (

[email protected]

).
China
Weekly COVID-19 statistics –localized outbreaks in Xinjiang (in China's northwest) and Liaoning province (in China's northeast) have reportedly stabilized, with both regions reporting fewer daily new cases over the previous week. The government has touted its aggressive quarantine measures and mass testing of local populations. In Xinjiang, a remote region with hospitals not as well equipped as more developed provinces, the government has been touting the role of traditional Chinese medicine in helping patients to recover. China's total COVID cases now stand at 89,549 and deaths at 4,707.
In light of these recent outbreaks, the State Council has called for urgent preparations to combat the virus during the autumn and winter months. Priority measures include: enhanced customs inspections (notably of "carrier" foods like fresh seafood imports), more efficient and accurate nucleic acid testing platforms, and more rigorous management of quarantined areas.
Beijing has reported no new cases for several days and has reopened Xinfadi wholesale market, the source of localized outbreak in June. The city has begun a staggered start to the city's numerous colleges and universities to minimize mass gatherings.
While the Chinese government reported better than expected economic figures for the second quarter, the steep drop in demand for Chinese exports and financial system risks pose continuing challenges. Consumption also remains below pre-COVID levels. The NDRC has said it would aim to boost consumption in the intelligent retail, online education and home appliance sectors, as well as offer subsidies for new energy vehicle purchases.
The National Health Commission this week released data showing visits to primary public hospitals for Jan-May declined 24% decline over 2019. Anecdotal evidence suggests that hospitals have been gradually resuming elective/regular surgeries and operations appear to be at 80-90% of pre-COVID levels, with this range varying by particular medical condition of the patient and geographical area.
This week, China and the United States agreed to double the number of roundtrip flights between the two countries to eight per week.
While U.S.-China relations remain in a downward trajectory with President Trump signing executive orders targeting Chinese apps WeChat and TikTok. The Phase One trade deal, however, remains intact and has emerged as a key area of cooperation. Chinese state firms continue to sign several large contracts for U.S. farm products, particularly soybeans. According to press reports, USTR and the Chinese side are working on scheduling a check-in call regarding Phase One implementation. On the campaign trail, President Trump said that he had ordered the postponement of the call since he does not want to talk to China now.
Staff Contact: Kyle Churchman (

[email protected]

)
India
The National Expert Group on Vaccine Administration for COVID-19 – a committee led by government think tank NITI Aayog member Dr. V.K. Paul – held its first meeting on August 12 to lay out a roadmap for procuring and administering COVID-19 vaccines across India. In addition, some state governments have re-imposed lockdown restrictions in metropolitan hubs to contain the spread of infection and avoid overburdening healthcare systems. The States have been advised not to chart separate pathways of procurement and there will be single central procurement pathway for vaccines against Covid-19.
Zydus Cadila on August 13, 2020 launched the cheapest generic version of Gilead Sciences' antiviral drug remdesivir in India to treat COVID-19 following reports of shortages at hospitals.
India can get back to 7% growth: IMF India Mission Chief- While healthcare professionals and scientists scramble to cope with the human toll of the ongoing COVID-19 pandemic, policymakers worldwide and in India are racing to stabilise their economies, and mitigate the damage that has already been inflicted upon livelihoods, especially of poorer sections. Ranil Salgado, India Mission Chief at the International Monetary Fund (IMF) said that India in the longer-term, say since the early 1990s, has had a record of gradual structural reform. We think it is urgent to get back to that once the crisis is over,"
World Bank, India sign $750 million emergency response programme for MSMEs.
Staff Contact: Abby Pratt ([email protected]).
Japan
Weekly COVID-19 statistics – 60,033 reported cases and 1,173 reported deaths compared to 53,315 reported cases and 1,090 reported deaths the previous week.
Despite the growing number of cases, Prime Minister Abe said he will not reinstate emergency measures.
The growing caseload has had a severe impact on Japan's hospitals. Some hospitals are cutting back or halting elective surgeries in order to deal with the influx of new cases. Nearly 70% of Japan's hospitals are now operating in the red.
According to a survey conducted by the Japan Public Hospital Federation of 1,481 member hospitals, patient visits in May 2020 were down by 24.9 percent, compared with one year ago.
The majority of new cases are in Tokyo and are affecting people in their 20s and 30s.
Japan and Vietnam have agreed to ease bilateral travel restrictions in stages. Vietnam will first accept 440 Japanese business travelers on three charter flights. The travelers will be required to undergo tests upon arrival and be quarantined for two weeks at hotels. Thailand will likely be next in line for eased restrictions, followed by Australia and New Zealand.
Japan currently has an entry ban in place for 111 countries and regions, with foreign travelers who have been to any of those areas within the last two weeks being turned away.
Japan's Ministry of Health has adopted priority regulatory review procedures for new COVID-related medical devices.
Japan will ban foreign companies from purchasing advanced medical device companies that are deemed essential to the national security in the fight against Covid-19. This measure is based on concerns about China but applies to companies from all countries. The government aims to ensure stable supply of essential devices that are vulnerable to contamination by infection, such as implants and dialyzers.
Staff Contact: Phil Agress (

[email protected]

).
Korea
South Korea's new daily cases have spiked upward. Several days this week there have been over 200 new cases per day. (Currently 288). While this remains low compared to other countries, the increase is very troubling to Korean officials and the trend is now moving in the wrong direction. While the number remains low compared to most countries, these are the worst figures Korea has seen in several months. There are 16,346 cases, 1,976 active with 307 deaths. Korea is now reporting 1 death per day.  
Korea continues to exhibit one of the lowest global death rates from COVID at just 2.4%. 
Health authorities stated that the COVID crisis in South Korea is at a more critical phase than it was in May due to continued local spikes linked to small gatherings. Authorities are concerned that they have less ability to track these events and that they are seeing signs that cases without symptoms or with mild symptoms are remaining undetected and spreading throughout the local communities.
A second wave of infections appears to be occurring and it may be worse than the initial phase. Breach of virus protection rules coupled with some uncooperative responses to antivirus measures by some church pastors and club goers have made it harder for officials to deal with this spike. Several large, anti-government rallies in Seoul over the past weekend are also seen as contributing to the increased numbers. Authorities have urged the rallygoers to get tested, but many are distrusting of the government's requests. There have also been instances of people fleeing hospitals after testing positive and being placed in treatment. These events add to the spread of the virus.
The Korean Health Minister indicated they will likely take stronger measures to address the sudden increase in cases. The Health Ministry is encouraging citizens to continue to follow social distancing and mask wearing guidelines and to not engage in large group activities. The Health Ministry also warned of a potential 'health system collapse' if measures aren't implemented soon to deal with the uptick in cases.        
Korea is providing a financial package to inject 40 trillion won ($33.8 billion) into 1,000 selected innovative businesses over the next 3 years. The plan is designed as the final piece necessary to finalize and align the so called "Korean New Deal" incentives which are so far worth 160 trillion won and enable those companies to have unlimited loan credit when borrowing from the Korea Development Bank.
The South Korean government has announced it will create at least 50 new job categories in the upcoming years, while providing necessary legal and fiscal support to tide over the worsening employment situation. It also pledged to inject 4.6 trillion won ($3.89 billion) into export-oriented service industries and adjust the government's fiscal support regulations which have been focused on the manufacturing sector.
Travelers from "high-risk" countries — Bangladesh, Pakistan, Kazakhstan, and Kyrgyzstan – are to submit certificates issued within 48 hours proving they tested negative for the coronavirus. Those without proof of the negative test result will not be allowed to board flights to Korea and could face deportation when they arrive. Even with the proof, they still need to self-quarantine for two weeks either at home or at designated facilities, depending on their visa status, and seek testing for the virus within three days of their arrival. The Philippines and Uzbekistan have more recently been added to the list of high-risk countries.
South Korea maintains its 2-week quarantine for all other incoming international travelers and a requirement for all inbound flights to check passengers' temperatures. Anyone with a temperature over 37.5 degrees Celsius (99.5 Fahrenheit) is denied entry. Korea has not issued any guidance on an exemption that is supposedly available.  Korea has indicated all US inbound travelers will be tested for symptoms prior to being moved to quarantine.
Korea appears to be moving toward implementation of a proposal that would potentially reduce the price of certain cardiac stents. AdvaMed is in touch with members and the medtech association in Korea and will be having some preliminary discussions with the US Government on this topic. Please contact Joseph Gatewood (

[email protected]

) if you have an interest in this matter and are not already engaged.
Resources: http://ncov.mohw.go.kr/en/. 
Staff Contact: Joseph Gatewood (

[email protected]

).
ASEAN
Weekly COVID-19 statistics – ASEAN now has 395,800 reported cases and 9,545 reported deaths compared to 350,027 reported cases and 8,669 reported deaths he previous week.
The Philippines and Indonesia account for 97.4% of the deaths from COVID-19 in the region. Indonesia's total COVID-19 deaths exceed 6,400, the highest level in East Asia.  The Philippines reports 2,883 deaths.
Cambodia, and Laos have each reported zero deaths, while Brunei has reported 3 deaths, Myanmar has reported 6 deaths, Singapore has reported 27 deaths (despite having over 56,000 cases), and Thailand has reported 58 deaths. All of these totals are unchanged from the previous week.
The Philippine lifted its two- week lockdown in and around Manila, the center of the outbreak, and most businesses can reopen until at least August 31. Surgeries will be for emergency cases only. The government will intensify pooled testing and contact tracing to detect asymptomatic cases in communities and workplaces while allowing more people to go back to work. 
Vietnam's outbreak in Danang following 100 days without any locally transmitted cases has led to its first COVID-19 fatalities (25 reported to date). The government has re-imposed strong stay-at-home requirements and non-essential business closures in Da Nang, and 80,000 tourists have been evacuated from the city. Hanoi and Ho Chi Minh City issued directives requiring people to wear face coverings in public or face a monetary fine.
Elective surgeries have resumed in Thailand and Vietnam. Thailand has gone over 80 days without a single case of community transmission.
In Indonesia, provincial hospitals are resuming elective surgery with COVID-19 protocols in place.
Malaysia maintains limits on elective surgery except in emergency cases.
Singapore restricts most elective surgeries but allows certain procedures including cancer screening, surgical operations for advanced cataracts, flu vaccinations, and dental procedures.  The government has lifted measures requiring doctors and healthcare workers in the public and private sectors to limit their movements across healthcare institutions. 
Indonesia has lifted the ban on export of medical devices for COVID-19 purposes. At the same time, President Jokowi has called for an end to PPE imports as the country is capable of manufacturing them locally. Indonesia has produced its own rapid test called RI-GHA COVID-19. 
Malaysia and Singapore partially reopened their border on August 10. Both governments have agreed to implement a Reciprocal Green Lane (RGL) and Periodic Commuting Arrangement (PCA). The RGL will enable cross-border travel for essential business and official purposes between both countries and the PCA will allow residents of Singapore and Malaysia who hold long-term immigration passes for business and work purposes in the other country to enter the country for work.  
Malaysia is also holding talks to create a "green zone" for travel with Brunei, Thailand, New Zealand, Australia, Japan, and South Korea. 
Singapore and China began a "fast-lane" travel arrangement for official and business purposes between the two countries. Singapore is in discussion with other countries such Japan, New Zealand, and South Korea on similar arrangements. 
The Thai Government adopted a fifth phase of lockdown easing, allowing most daily activities and businesses to resume.  It has lifted the ban on international flights and allows certain categories of individuals from Japan, China, South Korea, Hong Kong, and Singapore to enter the country. The Civil Aviation Authority will still apply stringent international travel restrictions preventing the entry of tourists.
Thailand's Centre for Covid-19 Situation Administration (CCSA) approved another extension of the state of emergency nationwide until August 31.
Staff Contact: Phil Agress (

[email protected]

)
Europe
Europe remains in decent shape, but they have had difficulty suppressing rates below a certain level, and there are now some trends in upward spiking. The UK new cases are down, reflecting their position as lagging by a few weeks behind the continental countries. Italy, France, Spain, and Germany are seeing daily increases in cases, but not yet at extreme rates. However, authorities in those countries are clearly concerned and are looking at stricter measures. Spain leads the EU in cases and the UK leads the EU in deaths, followed by Italy and France. Although not in the EU, Russia's reported numbers on COVID are problematic. Russia remains the COVID hot spot in Europe, now reporting 937,321 cases, with just 15,989 reported deaths.  By comparison, Italy, with much fewer (255,278) cases, reports 35,412 deaths. Russia recently has claimed its COVID curve is flattening, but there is skepticism of that claim. Russia's response to COVID and overall rates remain a concern for EU countries who are looking to reopen borders

Spain, Italy, Germany and France are showing increases in new cases as well as cases per million and deaths. UK new cases per day are slightly decreased.  
New daily cases, which tends to show which countries are increasing in COVID incidence is as follows:  Spain 3,715, (up from 3,172 last week); Italy 642 (up from 476 last week) Germany 1,595 (up from 1,320 last week)); France 3,776 (up from 2,669 last week); UK 812 (down from 1,009 last week); Belgium 363 (down from 388 last week), Russia 4,828 (down from 5,102 last week).  Most countries are experiencing spikes in new cases. France's level is its highest since emerging from lockdown.
New deaths per day (which tend to lag any increased infection rates) remain low and are as follows:  Spain 127; Italy 7; Germany 9; France 17; UK 16; Belgium 15.      
The EU prohibition against inbound travelers from the US, Russia and Brazil based on COVID concerns remains in place. Inbound travel is permitted from any of 15 approved countries and the list is updated every two weeks. The EU is recommending member states gradually lift the travel restrictions for the following countries: Japan, Canada, Georgia, Australia, New Zealand, Rwanda, South Korea, Thailand, Tunisia and Uruguay. There has also been a recommendation to ease restrictions on China, subject to confirmation of reciprocity measures by China's government.
Across the EU, Spain has implemented stay at home orders to four million residents of Catalonia. France has made face masks compulsory in all enclosed public spaces and appears likely to implement local lockdowns. In Italy, police have closed several popular tourist spots in Rome and clubs that violated social distancing rules have been closed. Belgium has seen a rise in infections and is not proceeding with its planned next phase of re-opening which was to have gone into effect on August 1. Ireland has issued a statement discouraging all 'non-essential inbound travel'.  
The Commission continues to have exploratory talks with a number of vaccine companies to purchase a potential vaccine when it becomes ready. To date the Commission has reported positive talks with Sanofi-GSK, Johnson and Johnson, CureVac and AstraZeneca.
The Commission will support 23 new research projects with €128 million in response to the continuing coronavirus pandemic. The funding under Horizon 2020, the EU's research and innovation programme, is part of the Commission's €1.4 billion pledge to the Coronavirus Global Response initiative, launched by President Ursula von der Leyen in May 2020.
The 23 projects shortlisted for funding involve 347 research teams from 40 countries, including 34 participants from 16 countries outside of the EU. The funding will enable researchers to address the pandemic and its consequences by strengthening the industrial capacity to manufacture and deploy readily available solutions, develop medical technologies and digital tools, improve understanding of behavioral and socio-economic impacts of the pandemic, and to learn from large groups of patients (cohorts) across Europe. These research actions complement earlier efforts to develop diagnostics, treatments and vaccines.
The Commission is currently negotiating grant agreements for new projects under this framework that will cover:

Repurposing manufacturing for rapid production of vital medical supplies and equipment needed for testing, treatment and prevention – for instance using injection molding and additive manufacturing (3-D printing), adaptive production and supply chain methods, and repurposing manufacturing as a service network for fast reaction.
Developing medical technologies and digital tools to improve detection, surveillance and patients' care – for example through the development of new devices for faster, cheaper and easier diagnosis (including remotely) plus new technologies to protect healthcare workers.
Analyzing behavioral and socio-economic impacts of the responses of government and public health systems, for instance on mental health, including gender-specific aspects in risk factors and the socioeconomic burden, to develop inclusive guidance for policymakers and health authorities and enhance preparedness for future similar events.
Learning from large groups of patients (cohorts) by connecting existing cohorts in the EU and beyond to assess their exposure to certain risk factors to better understand the possible causes of disease in order to improve responsiveness to the virus and future public health threats.
Enhancing collaboration of existing EU and international cohorts by networking research institutions that are collecting data on patient care to enable studies into patient's characteristics, risk factors, safety and effectiveness of treatments and potential strategies against coronavirus.
The WHO has warned that there is growing evidence that young people may experience long term adverse consequences from contracting COVID. It also this week warned that young people who are not aware that they are infected are both spreading the disease and becoming ill from it.
The WHO has downplayed the danger of the coronavirus latching on to food packaging and urged people not to be afraid of the virus entering the food chain.
Russia's claim that it has developed a coronavirus vaccine continues to be met with skepticism in the US and Europe. The rising chorus of critics have pointed out concerns arising from opaque development and a lack of mass testing. Russia has dismissed the criticisms and is pushing ahead with mass production of the so called "Sputnik V" vaccine. Several vaccine experts this week expressed concerns about potentially devastating side effects, as were experienced with a SARS vaccine, if the Sputnik vaccine isn't adequately tested. Other experts indicated concerns that even under the best-case scenario, assuming the vaccine does confer some immunity, does it do so at sufficient levels to protect individuals and prevent community spread. If it does not, and is widely utilized, it could actually result in production of a more virulent or resistant strain of the disease.
The European Court of Justice has struck down the EU-US Privacy Shield law based on arguments from an EU plaintiff that the US security laws did not sufficiently protect EU citizens. Commerce Secretary Wilbur Ross expressed 'deep disappointment' in the ruling and said he would work with the EU to limit any negative consequences. AdvaMed had a virtual meeting/discussion with the Dept. of Commerce to obtain the latest information on the situation. We are enabling our members to provide details of problems they are experiencing directly to Commerce. There are discussions ongoing between the US and the EU Commission to try to find a solution to address the ECJ decision's dictates.  
In the UK, the NHS is preparing to spend up to £10 billion in private hospitals over four years in an effort to bring waiting lists down. The outsourced work aims to cut waiting lists, which are forecast "to increase as a result of Covid-19 interrupting and reducing NHS capacity". It will include testing and imaging and inpatient and outpatient treatment for urgent planned care and cancer treatment.
A battle is brewing over a potential for the UK Gov't decision on whether to order Oldham in Greater Manchester to catastrophic lockdown status. Local officials have called the potential action premature, unnecessary and potentially devastating to the local economy. The lockdown would affect the town's bars, restaurants and gyms and would be the first local lockdown in England since hospitality businesses reopened last month. The town has the highest coronavirus infection rate in England despite restrictions on social visits imposed three weeks ago.
The Health Secretary's announcement of a decision to scrap Public Health England and replace it with a new National Institute for Health Protection has come under withering criticism. Critics of the move have indicated it is an unnecessary action that is a huge risk that will distract staff who are already preoccupied dealing with COVID.
A leading Trust has said that NHS England's ambitions for 'near normal' service levels this autumn are unlikely to be achieved, with current poor performance for waiting times for elective surgery, diagnostics and cancer treatment all expected to continue. 
The UK is publicly stating it believes it can agree a post-Brexit trade deal with the EU next month, according to Downing Street. The PM's spokesman said UK negotiators would "continue to plug the gaps" as negotiations enter their seventh round in Brussels this week.       The two sides remain divided over competition rules, fishing rights and how a deal would be enforced.       The UK has ruled out extending the December deadline to reach an agreement.
ABHI is conducting a comprehensive analysis of the re-start of elective procedures in each Trust and Health Board in the UK. The results can be found here: https://www.abhi.org.uk/membership/members-area/updates/2020/july/the-restart-of-planned-care/.
Germany is expected to extend its pandemic furlough scheme to 24 months after Angela Merkel stated she welcomed the proposal. Germany's finance minister first publicly proposed extending the benefit, which is currently limited to not more than 12 months, early this week.
Germany's use of mandatory testing for travelers arriving from high-risk areas (including the US) has triggered concerns regarding who will pay for the testing. Some are arguing the persons being tested should pay.
A recent stretch of ideal weather in Berlin has authorities concerned about COVID spikes. Park officials are struggling to ensure people are adequately spaced.
German schools are reopening as the country sees a rise in coronavirus cases. The state of North Rhine-Westphalia is requiring all students to wear masks inside school buildings.
France is preparing to make face masks compulsory in the workplace, the government said on Tuesday as it moved to add open-plan work areas to a growing list of places where people have to cover up to curb the spread of coronavirus. By the time people in France return to work after the August summer holidays, masks will be a "systematic" addition to indoor work spaces, including meeting rooms, corridors, change rooms and open-plan offices.
Showing how seriously the epidemic has affected the country, the first game of the French soccer season was postponed Tuesday because of an outbreak of COVID in Marseille. French soccer was widely criticized in the spring after it was the highest profile European league to end the season early during the pandemic rather than try to restart. The standings were declared final at that point. Marseille will play in the next Champions League in October. In Germany, England, Italy and Spain, leagues restarted after shutting down for several months and completed their programs in June and July. Those leagues start the 2020-21 season in September.
France has indicated the government would commit an envelope of €7.5 billion to raise the wages of staff at hospitals badly strained by the coronavirus pandemic.
France's Macron and Germany's Merkel are meeting this week to chart the next steps in their partnership that now appears to be the prime driver of EU political activity. Their prior meeting resulted in the EU to take on debt raising powers to finance a post-COVID recovery.      
If you are experiencing difficulties with exporting PPE from the EU, please let us know immediately. We have not seen any instances of this occurring since an initial incident was resolved.
The proposed one-year suspension of implementation of the EU's MDR is now final.  The measure extends until May 26, 2021 the date of application of the current regulation but does not extend every target deadline referenced in the law.  It also creates the possibility of EU-wide derogations for specific medical devices.
https://www.medtecheurope.org/news-and-events/press/medtech-europe-welcomes-the-amendment-of-the-medical-devices-regulation-and-urges-similar-action-for-the-ivd-regulation/.
AdvaMed's joint programs in Germany and the UK continue to provide COVID-19 updates and support on MDR implementation. We recently hosted joint webinars and working group calls with ABHI to give members the latest information.  
Resources: https://www.ecdc.europa.eu/enlll;
https://www.bundesgesundheitsministerium.de/en/press/2020/coronavirus.html;
https://www.medtecheurope.org/resource-library/european-industry-trade-and-supply-chain-needs-to-respond-to-covid-19/;
https://www.medtecheurope.org/wp-content/uploads/2020/03 European_Union_Emergency_Support_Instrument_for_the_healthcare_sector_-_questions_and_answers.pdf;
Med Tech Europe White Paper on Companion Diagnostics under the IVDR:       https://www.medtecheurope.org/resource-library/joint-medtech-europe-efpia-white-paper-on-companion-diagnostics-under-the-ivdr/
Staff Contact:  Joe Gatewood (

[email protected]
 Latin America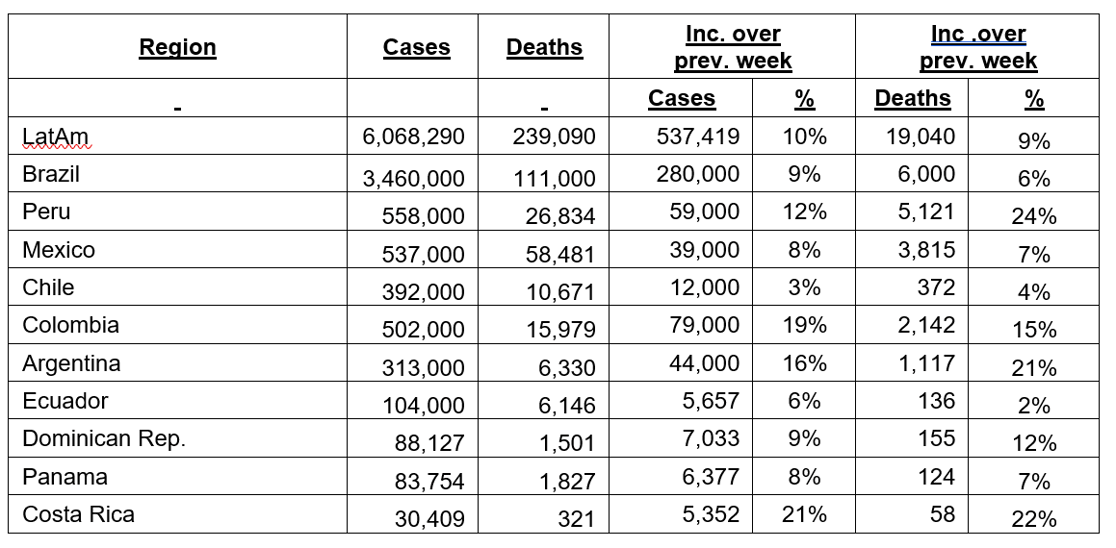 Regional
Total COVID-19 cases up 10% and deaths up 9% over the previous week.
Weekly Highlights –COVID 19
Argentina: Fernández scores win with announcement of AstraZeneca's Covid-19 vaccine to be locally produced
Bolivia: Electoral tribunal ratifies electoral date for October 18, 2020
Brazil: Bolsonaro sees drop in rates as states look to secure access to a vaccine
Chile: Piñera launches wide reactivation and infrastructure plan to recover economy
Colombia: Minister of Health in the spotlight as discussions on procurement and access to a COVID-19 vaccine take spotlight
Ecuador: Ecuador registers over 100,000 COVID-19 cases
Mexico: In joint agreement with Argentina, AMLO secures local manufacturing of COVID-19 vaccine
Paraguay: Reported low stocks of critical goods bring forward questionings against the Ministry of Health's procurement and planning capacities
Peru: Commission in charge of monitoring the production, acquisition, and distribution of COVID vaccines and treatment created
Uruguay: New measures expected after increase of COVID-19 cases along Brazilian border
Staff Contact: Steven Bipes (

[email protected]

)