AdvaMed recognizes that its members, particularly those with global government affairs responsibilities, are tracking COVID-19 related developments around the world to assess the public health and economic impacts on their businesses. Knowing that companies are consuming information from a variety of sources, AdvaMed's global team would like to provide members with a weekly snapshot of the key statistics, policy developments and advocacy initiatives underway in our priority markets. If you have any suggestions, we welcome your feedback.
Global
Weekly COVID-19 statistics- global cases reached 12.2 million, representing a 1.5 million increase over the previous week. Deaths exceeded 550,000. The countries with the most reported cases are the U.S. (3 million), Brazil (1.7 million), India (767,000), and Russia (706.000).
U.S. cases exceeded 3 million with deaths increasing to 132,570.
Staff Contact: Ralph Ives (

[email protected]

).
China
Weekly COVID-19 statistics – aside from the recent outbreak in Beijing that saw over 200 locally transmitted cases, all other areas of China continue to report very few to no new cases each day and are mostly linked to foreign arrivals. Total cases now stand at 84,992 and deaths remain unchanged over the previous week at 4,641.
The outbreak in Beijing appears to be under control. There have been 18 new cases reported in neighboring Hebei province, however. Authorities in in Anxin—a city 90 miles south of Beijing—ordered the quarantine of the city's 400,000 residents due to a cluster outbreak.
As part of its ongoing response to the Covid threat, the government is emphasizing the role of traditional Chinese medicine (TCM) as a therapeutic remedy. TCM clinics are to increase their supply of PPE and carry out nucleic acid tests.
China's economy continues to face some challenges. While production levels have returned to pre-Covid levels, consumption continues to lag. For instance, tourism revenues during the Dragon Boat festival two weeks ago dropped nearly 70 percent compared to last year. The Finance Ministry further released data indicating that state-owned enterprise profits fell 52.7 percent year on year across January to May. Analysts suggest that slow income growth and social distancing have severely hampered the recovery of consumption.
China is continuing to allow an increased number of inbound flights from overseas. United Airlines and Delta Airlines will resume services to Shanghai from San Francisco and Seattle, respectively. However, routes discovered to have transported new cases of COVID-19 will be suspended.
China continues to ban the entry of all foreign nationals. Nearly all foreign arrivals are returning PRC citizens.
Elective/regular surgeries and other medical services are back to normal. Beijing is admitting all Covid patients to Ditan Hospital in the city's northeast. To our understanding, Beijing's other hospitals have not paused elective surgeries as of now.
The WHO sent a team to China this week to investigate the origins of COVID-19.
The U.S. government has postponed the return of several of its diplomats to China—initially scheduled for next week–for reasons that are not clear, but may be related to tensions in the U.S.-China relationship.
Staff Contact: Kyle Churchman (

[email protected]

)
India
Japan
Weekly COVID-19 statistics – 21,476 reported cases and 995 reported deaths compared to 19,802 reported cases and 990 reported deaths the previous week.
Tokyo deactivated its virus alert and moved to the third and final stage of its plan to reboot businesses and reopen society. Under Phase 3, nearly all business closures were lifted. Restaurants and bars can stay open until midnight, and public events will be limited to one thousand people.
Following this reopening, Japan has experienced an increase in reported cases. The majority of new cases are in Tokyo and are affecting people in their 20s and 30s. Despite this increase, the government is moving forward with reopening the economy.
Japan lifted all domestic travel restrictions. Residents are free to visit any prefecture across the nation.
The government released a national contact tracing app but was immediately confronted with bugs that forced the Ministry of Health, Labor, and Welfare (MHLW) to hastily pause the app's operations.
Japan and Vietnam announced an agreement to ease bilateral travel restrictions in stages. Vietnam will first accept 440 Japanese business travelers on three charter flights. The travelers will be required to undergo tests upon arrival and be quarantined for two weeks at hotels. Thailand will likely be next in line for eased restrictions, followed by Australia and New Zealand.
Japan currently has an entry ban in place for 111 countries and regions, with foreign travelers who have been to any of those areas within the last two weeks being turned away.
Japan's Ministry of Health has adopted priority regulatory review procedures for new COVID-related medical devices.
Japan will ban foreign companies from purchasing advanced medical device companies that are deemed essential to the national security in the fight against Covid-19. This measure is based on concerns about China but applies to companies from all countries. The government aims to ensure stable supply of essential devices that are vulnerable to contamination by infection, such as implants and dialyzers.
Staff Contact: Phil Agress (

[email protected]

).
Korea
Weekly COVID-19 statistics – South Korea's new daily cases stand at 50 now, just slightly down from last week but still almost double the number from two weeks ago. Authorities are continuing to monitor and do contact tracing, but the recent spike appears to be localized in Gwangju, 170 miles from Seoul. There are 13,293 cases, 987 active with 287 deaths. During one stretch last week, Korea did not report any daily deaths but they are now reporting 2 per day.
The South Korea Center for Disease Control (KCDC) has warned of a summer wave of COVID that will be triggered by greater travel within the country for summer vacations. They are currently working on guidance for Korea beaches and more detailed guidances for outdoor gatherings. They also noted they could impose stricter travel measures if they see a spike in infection rates during the vacation season.
KCDC reports that only .003% of South Koreans sampled for COVID antibodies were found to have immunity from the disease. This is discouraging news regarding so-called herd immunity, but the samples were not representative so more work needs to be done,
Korea continues to exhibit one of the lowest global death rates from COVID at just 2.4%.
South Korea has eased the standards for releasing COVID-19 patients from hospitals amid growing concerns about a possible lack of beds for critically ill patients. Asymptomatic patients may be released from quarantine although they show an initial positive test result, if they have no symptoms associated with the coronavirus, such as a fever, for 10 days from the day of the initial COVID-19 diagnosis. Patients with symptoms may be released from isolation under two conditions ― 10 days have passed since the diagnosis, and they have shown no symptoms ― and no fever shown without taking a fever-reduction medication for three days in a row. Previously, patients were released from quarantine only when they were symptom-free and had two negative test results on two consecutive days.
South Korea has committed to inject over 4 trillion won (4.1 billion) in the materials, parts and equipment industries to ensure stable supplies for the nation's key exports. Of this amount, 2 trillion won will be allocated for the nation's three major industries, including semiconductor, biotech and future mobility sectors, according to the Minister of Industry.
The government also plans to provide tax benefits and secure 110 billion won worth of venture capital funds to support SMEs developing future technologies. The government will separately invest 1.5 trillion won over the next 5 years to create industrial clusters that connect the major players with SMEs. It will also encourage foreign companies to join research and development projects, increasing the participation rate from 3 to 10 percent.
South Korea maintains its 2-week quarantine for all other incoming international travelers and a requirement for all inbound flights to check passengers' temperatures. Anyone with a temperature over 37.5 degrees Celsius (99.5 Fahrenheit) is denied entry. Korea has still not issued any guidance on an exemption that is supposedly available. Korea has indicated all US inbound travelers will be tested for symptoms prior to being moved to quarantine.
Korea is considering a proposal that would potentially reduce the price of certain cardiac stents. AdvaMed continues to be in touch with members and the medtech association in Korea and is prepared to engage at the appropriate time if necessary.
Resources: http://ncov.mohw.go.kr/en/.
Staff Contact: Joseph Gatewood (

[email protected]

).
 ASEAN
Weekly COVID-19 statistics – ASEAN now has 180,785 reported cases and 4,919 reported deaths compared to 155,290 reported cases and 4,449 reported deaths the previous week.
The Philippines and Indonesia account for 96% of the deaths from COVID-19 in the region.
Elective surgeries have resumed in Thailand and in most hospitals in Vietnam. Singapore now allows certain procedures including cancer screening, surgical operations for advanced cataracts, flu vaccinations, and dental procedures. Malaysia and the Philippines are beginning to plan for the resumption of elective surgery once recovery milestones are met. Provincial hospitals in Indonesia have resumed elective procedures.
Indonesia has lifted the ban on export of medical devices for COVID-19 purposes. At the same time, President Jokowi has called for an end to PPE imports as the country is capable of manufacturing them locally.
Indonesia's government is drawing up plans to permit limited international travel to China, Japan, South Korea, and Australia. Negotiations with those countries have yet to begin and could face significant hurdles given that Indonesia's COVID-19 transmission rates remain high.
Malaysia is in discussions to begin the first phase of reopening the country's borders. It has agreed with Singapore to allow cross-border travel for certain groups of people, including residents who hold long-term immigration passes for business and work purposes. It plans to hold talks to create a "green zone" for travel with Brunei, Thailand, New Zealand, Australia, Japan, and South Korea.
The Philippines has resumed domestic flights. International flights remain suspended except repatriation flights to take foreigners home.
Singapore now allows small gatherings, and restaurants and shops can reopen. Social distancing requirements will remain, but this measure marks a major easing in COVID-19 restrictions and reflects a decline in worker dormitory cases and a stable level of other cases.
Singapore and China began a "fast-lane" travel arrangement for official and business purposes between the two countries. Singapore and Malaysia have agreed to allow cross-border travel for certain groups of people, including residents who hold long-term immigration passes for business and work purposes. Singapore is in discussion with other countries such New Zealand and South Korea on similar arrangements.
The Thai Government approved the fifth phase of lockdown easing, allowing most daily activities and businesses to resume. It has lifted the ban on international flights and allows certain categories of individuals from Japan, China, South Korea, Hong Kong, and Singapore to enter the country The Civil Aviation Authority will still apply stringent international travel restrictions preventing the entry of tourists.
Meanwhile, the Thai government has decided to keep the kingdom under a state of emergency until July 31 despite having recorded no local transmission for over a month.
Vietnam is considering reopening international flight routes in late July to countries and territories which have no new cases of COVID-19 in the community for 30 consecutive days. Priority will be given to Japan, Korea, China, Taiwan, and some Southeast Asian countries which have controlled the disease. International flights to the EU and U.S. are projected to resume in late 2020 and early 2021.
Vietnam has gone three months without any newly reported cases of community-spread COVID-19. It is one of the few countries in the world whose economy grew in the second quarter.
Staff Contact: Phil Agress (

[email protected]

)
Europe
Europe continues to improve overall.  The WHO issued a public statement detailing how it believes the COVID pandemic is accelerating globally.  WHO has appointed a committee to evaluate the global response to COVID and make recommendations for an enhanced system of global health governance.

Conditions in some of the worst hit countries, such as Italy and Spain, have continued to improve, with new daily cases and total cases flattening.  The UK leads the EU in the number of cases and deaths.  Italy and France are second and third in the EU in the number of fatalities from COVID.  Although not in the EU, Russia's reported numbers on COVID are continuing to increase, and continue to be the worst in Europe.  Russia remains the COVID hot spot in Europe, now reporting 700,792 cases, with just 10,667 reported deaths.  By comparison, Germany, with many fewer cases, 198,192, reports 9,115 deaths.  Russia's response and condition remain a concern for EU countries who are looking to reopen borders. 

The EU has issued a prohibition against inbound travelers from the US, Russia and Brazil based on COVID concerns when it reopens borders on July 1.  They will permit inbound travel from any of 15 approved countries and will update the list every two weeks.    
New daily cases, which tends to show which countries are increasing in COVID incidence is as follows:  Spain 383; Italy 193; Germany 410; France 662; UK 630; Belgium 65, Russia 6,562.   
New deaths per day are as follows:  Spain 4; Italy 15; Germany 12; France 32; UK 126; Belgium 2.  Overall trends remain positive in the EU.  Russia shows 173 deaths per day but will re-open its schools and universities next week.  The mayor of Moscow indicated that residents of the city will no longer be required to wear masks outdoors beginning next week.      
European Union negotiators will propose a slightly smaller seven-year budget to EU government leaders but stick to the goal of a 750-billion-euro ($846.30 billion) coronavirus recovery fund.  European Council President Charles Michel will propose a total budget of between 1.05 trillion and 1.094 trillion euros. The Commission had proposed 1.1 trillion euros. EU leaders will meet on July 17 and 18th to discuss and attempt to agree on a final budget and there remains work to be done prior to approval.   
The European Commission said Tuesday that it expects the EU economy to shrink 8.3% in 2020, considerably worse than the 7.4% slump predicted two months ago. Growth next year is expected to be "slightly less robust" than previously thought, with GDP seen expanding by 5.8%.  The outlook for the 19 countries that use the euro was also downgraded. A contraction of 8.7% is now expected in 2020, a full percentage point more than the previous forecast.
An EU wide survey revealed deep public disappointment in the EU's fragmented coronavirus response and European governments' handling of the pandemic. An overwhelming majority nevertheless say the pandemic has convinced them that EU governments should cooperate more closely in the face of future external threats.
The EU is planning to admit Croatia and Bulgaria into the Euro-zone and have voted to admit them to a preliminary stage for adopting the euro, expected to last for 3 years. 
The chief negotiator for the EU continues to indicate there are large differences between the EU and the UK on a post-Brexit trade deal.  This despite efforts on both sides to intensify the talks and clarify issues. 
Infection rates in England are falling, and restrictions will continue to ease with outdoor pools and some other outdoor activities reopening from July 11 and indoor gyms, pools and sports facilities scheduled to reopen on July 25.  The government has indicated that any of the scheduled easing is reversible depending upon local conditions or infection rates spiking.    
Recent reports indicate that the patients receiving necessary health treatment in NHS hospitals has dramatically declined due to hospital limitations from COVID.  Concerns are that many health conditions have worsened due to people not receiving necessary treatment during the COVID pandemic.  The NHS has committed to addressing this issue and in reducing what are now record waiting times for treatment.  However, it cautions that it could be next year before waiting times come back within the normal range. Planned operations fell by 80% in May compared to the same time in 2019.
The NHS has been given over 30 Billion Pounds to fight coronavirus, according to the UK Treasury. 
In a press conference with the EU Commission, German Chancellor Merkel warned that Europe was facing its toughest situation and warned the pandemic has not yet disappeared.  Prior remarks by Merkel emphasized that the EU should focus on rebuilding its economic and social strength as it moves out of COVID.  Germany assumed the EU Presidency in July and will be followed by Portugal on January 2021 and Slovenia on July 2021.   
German hospitals are re-opening and there is a large backlog for elective procedures.  Patients are being reassured through public affairs messages of the measures that are in place to ensure safety from COVID.  But there remains hesitancy for patients to undertake elective procedures at pre-Covid levels.
German industrial orders rebounded moderately in May and a fifth of firms in Europe's biggest economy said in a survey published on Monday they feared insolvency, adding to expectations of a slow and painful recovery from the coronavirus pandemic.
German Chancellor Angela Merkel has rejected the abolition of the corona-induced mask obligation in shops. She has broad support from the parties and the states to maintain rules favoring mask wearing in indoor spaces. 
Germany and France have publicly committed to political and financial backing for the WHO in its fight against the coronavirus. 
France's new Prime Minister Jean Castex said a second nationwide-coronavirus lockdown is "out of the question", but he also warned that if need be, restrictions will be re-imposed locally. His statement comes amid growing concern about French people's behavior, such as less respect for social distancing.
Castex also indicated his government would commit an envelope of €7.5 billion to raise the wages of staff at hospitals badly strained by the coronavirus pandemic.
We have heard one instance of a potential issue with products being blocked by the EU's export restriction on PPE. If you are experiencing difficulties with this restriction, please let us know immediately.
The proposed one-year suspension of implementation of the EU's MDR is now final.  The measure extends until May 26, 2021 the date of application of the current regulation but does not extend every target deadline referenced in the law.  It also creates the possibility of EU-wide derogations for specific medical devices.
https://www.medtecheurope.org/news-and-events/press/medtech-europe-welcomes-the-amendment-of-the-medical-devices-regulation-and-urges-similar-action-for-the-ivd-regulation/.
AdvaMed's joint programs in Germany and the UK continue to provide COVID-19 updates and support on MDR implementation.
Resources: https://www.ecdc.europa.eu/enlll;
https://www.bundesgesundheitsministerium.de/en/press/2020/coronavirus.html;
https://www.medtecheurope.org/resource-library/european-industry-trade-and-supply-chain-needs-to-respond-to-covid-19/;
https://www.medtecheurope.org/wp-content/uploads/2020/03 European_Union_Emergency_Support_Instrument_for_the_healthcare_sector_-_questions_and_answers.pdf;
Med Tech Europe White Paper on Companion Diagnostics under the IVDR:  https://www.medtecheurope.org/resource-library/joint-medtech-europe-efpia-white-paper-on-companion-diagnostics-under-the-ivdr/
Staff Contact:  Joe Gatewood (

[email protected]

)
 Latin America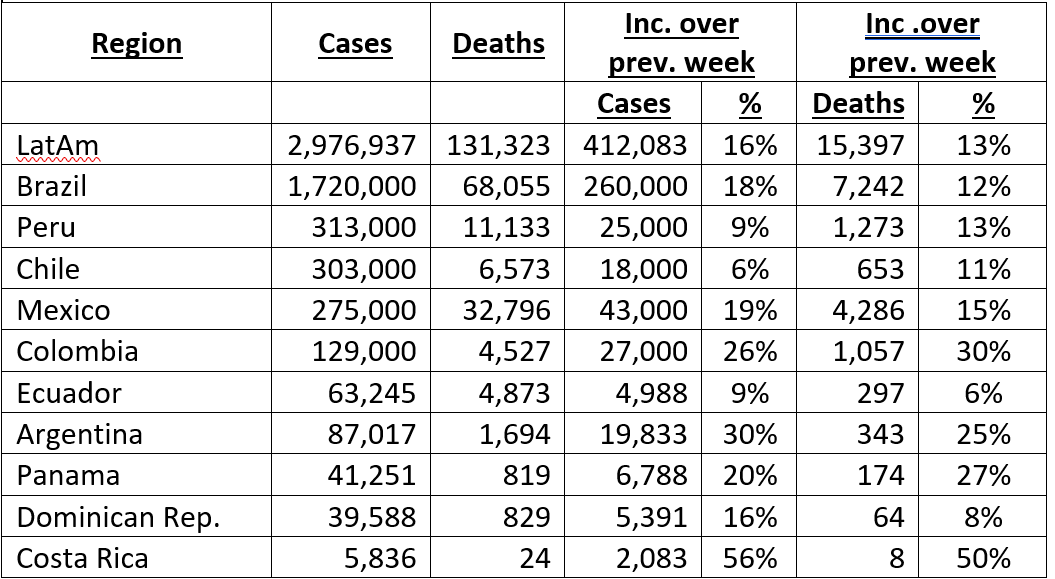 Regional
Total COVID-19 cases up 16% and deaths up 13% over the previous week, a slight rate decrease over the previous week.
Brazil
The majority of the 300+ COVID-19 measures that the Brazilian government has implemented have been deemed positive for the medtech sector response.
Concern remains regarding new proposals on the economic regulation of medical technology.
Mexico
AdvaMed member and supplier production in the Mexico border states has remained uninterrupted.
Concern is rising regarding a draft bill for government procurement at odds with the USMCA which is now in effect.
Other Highlights (Source: Prospectiva):
Argentina: Differences in openings and ease of lockdowns in provinces and cities accentuates.
Bolivia: Dynamic quarantine extended until the end of July.
Brazil: States begin reopening with reports of measure and distancing violations.
Chile: Local lockdowns extended in more than 60 communes.
Colombia: Focus on the economy while confirmed cases continued to increase, especially in the Caribbean coast.
Ecuador: New measures for the country's reactivation traffic light system.
Mexico: A new Industrial Innovation Protection Law approved.
Paraguay: Economic reactivation plan prompts debates on expenditure.
Peru: 50 private clinics to join the agreement with the MoH to care for seriously ill COVID patients.
Uruguay: As Uruguay assumes MERCOSUR presidency, advances in trade agreements are expected.
Staff Contact: Steven Bipes

[email protected]