The weekly global report provides brief updates on COVID-19 related activity and policy development in AdvaMed's priority markets. For additional information, please contact Ralph Ives at [email protected].
AdvaMed recognizes that its members, particularly those with global government affairs responsibilities, are tracking COVID-19 related developments around the world to assess the public health and economic impacts on their businesses. Knowing that companies are consuming information from a variety of sources, AdvaMed's global team would like to provide members with a weekly snapshot of the key statistics, policy developments and advocacy initiatives underway in our priority markets.  If you have any suggestions as we ramp up this work stream, we welcome your feedback.
Global
Weekly COVID-19 statistics- Global cases topped 7.4 million – a 900,000 increase over the previous week, and deaths reached 418052 (an increase of over 31,000) in 185 nations.
U.S. cases are now just over 2 million, with deaths increasing to 113,209 – an increase of approx. 6,000 over the previous week.
Staff Contact: Ralph Ives (

[email protected]

).
China
Weekly COVID-19 statistics – China continues to report only a few cases each day and, on some days, no new cases at all. Total cases stand at 84, 210 and deaths at about 4,638.
China has allowed foreign airlines to conduct one commercial passenger flight per week into China per week, with the possibility of increasing to two per week if no passengers test positive for COVID-19. There are no direct foreign flights into Beijing, however. Travelers must enter through one of 12 Chinese cities for customs clearance and quarantine before traveling onward to Beijing.
With the epidemic under control, China's economy is recovering nicely. The number one policy priority is stable employment, with millions of workers still unemployed from Chna's shutdown in Jan-March and continued weak export demand. The government has decided not to set a GDP growth target for the year.
Elective/regular surgeries and other medical services are back to normal, including now in Beijing.
China has carried out widespread testing in Wuhan and Mudanjiang (a city in Northeast China bordering Russia), using nuclear acid tests. Otherwise, Chinese testing for Covid has been limited in recent months.
The Phase One trade agreement is proceeding with implementation. USTR has praised China for its progress on the deal's "structural" aspects, including IPR protection, phytosanitary requirements for U.S. farm products, etc. China is lagging far behind in its purchases of U.S. products, including medical devices.
Staff Contact: Ralph Ives (

[email protected]

).
India
Weekly COVID-19 statistics –137,448 active cases with 8,102 deaths as compared to 106,737 active cases with 6,975 deaths reported last week.
Even as the country loosens lockdown restrictions, India's COVID numbers continue to serge, particularly in New Delhi and Mumbai. India now ranks #5 worldwide in the number of cases after the US, Brazil, Russia and the UK.
The Directorate General for Foreign Trade (DGFT) expanded its restrictions on the export of COVID-19 test kits to now include products such as swabs, reagents, tubes and probes used in the diagnosis of COVID. Please see notification here.
The government has announced that it has lifted the ban on the export hydroxychloroquine and its formulations. There are still some restrictions on the export amounts.
The government designated the Central Drugs Standard Control Organization (CDSCO) as the first point of registration for clinical trials of all drugs and vaccines, a move expected to cut the approval time to from 12 to 3 months. A committee led by cabinet secretary has also decided to set up a nodal coordination committee to ensure expeditious disposal of all applications with the decision binding on all regulators.
The India Council of Medical Research (ICMR) issued Guidelines for Validation and Batch Testing of COVID-19 Diagnostic Kits.
India's economy could contract by as much as 7.3% in FY21 in the event of second COVID outbreak, according to the OECD.
Prime Minister Modi pledged $15 million to GAVI at the Global Vaccine Summit hosted virtually by the UK.
Staff Contact: Abby Pratt (

[email protected]

).
Japan
Weekly COVID-19 statistics – 18,060 reported cases and 935 reported deaths compared to 17,790 reported cases and 923 reported deaths the previous week.
Tokyo deactivated its virus alert and moved to the third and final stage of its plan to reboot businesses and reopen society. Under Phase 3, nearly all business closures are being lifted. Restaurants and bars can stay open until midnight, and public events will be limited to one thousand people.
Japan plans to ease its coronavirus travel restrictions this summer by letting in up to 250 business travelers per day from Australia, New Zealand, Thailand, and Vietnam. The quota will initially apply to businesspeople such as executives and engineers.
Japan currently has an entry ban in place for 111 countries and regions, with foreign travelers who have been to any of those areas within the last two weeks being turned away.
Japan experienced a 40% decline in patient hospital visits in April compared to a year earlier. This follows guidance from the Ministry of Health to the prefectures requesting them to encourage the postponement of procedures and surgeries that are deemed by physicians, in consultation with their patients, to be non-essential at present.
Japan's Ministry of Health announced that it will adopt priority regulatory review procedures for new COVID-related medical devices.
Japan will ban foreign companies from purchasing advanced medical device companies that are deemed essential to the national security in the fight against Covid-19. This measure is based on concerns about China but applies to companies from all countries. The government aims to ensure stable supply of essential devices that are vulnerable to contamination by infection, such as implants and dialyzers.
Staff Contact: Phil Agress (

[email protected]

).
Korea
Weekly COVID-19 statistics – South Korea continues its pattern of recovery from COVID-19, but the new cases continue to be above the levels from two weeks ago. Daily cases (45) are down from last week, but still above the levels of two weeks ago. There are 11,947 cases, 1017 active with 276 deaths. Current daily death totals are just 2, still very low but more than last week.
The South Korea Center for Disease Control (KCDC) has reported that one in four patients who contracted coronavirus within the past week was aged 65 or older. This increase in predominance within the senior age group is concerning if it becomes an established trend. Korean authorities are investigating how the infections are being caused and transmitted.
Korea continues to exhibit one of the lowest global death rates from COVID at just 2.4%.
Health authorities have aggressively mobilized technological tools to trace contacts and enforce quarantines, with an infectious disease law strengthened after a 2015 outbreak of a different coronavirus, MERS, allowing them quick access to cellphone data, credit-card records and surveillance camera footage.
Since January 3, South Korea has tested more than 1.06 million people for COVID.
Officials in Seoul continued with stricter measures than much of the rest of Korea, including a two week phase of stringent physical distancing, until at least June 14. Thousands of bars and entertainment venues have been re-closed in and around Seoul. Overall, the country continues to re-open.
The Korean economy contracted by 1.4% in Q1. The Korean government is projecting negative growth, as is the IMF.
The Bank of Korea will continue to freeze its key interest rate at .5%, but will consider further reductions in the near future, depending on economic conditions.
South Korea has launched a $33 Billion bailout for large companies, starting with airlines and shippers. This is expected to be followed by a second release of funds to aid smaller companies. South Korea has also set aside 500B Won to provide guaranteed loans auto parts manufacturers.
South Korea maintains its 2-week quarantine for all other incoming international travelers and a requirement for all inbound flights to check passengers' temperatures. Anyone with a temperature over 37.5 degrees Celsius (99.5 Fahrenheit) is denied entry. Korea has still not issued any guidance on an exemption that is supposedly available. Korea has indicated all US inbound travelers will be tested for symptoms prior to being moved to quarantine.
Korea is considering a proposal that would potentially reduce the price of certain cardiac stents. AdvaMed continues to be in touch with members and the medtech association in Korea and is prepared to engage at the appropriate time if necessary.
Resources: http://ncov.mohw.go.kr/en/.
Staff Contact: Joseph Gatewood (

[email protected]

).
ASEAN
Weekly COVID-19 statistics – 107,356 reported cases and 3,149 reported deaths compared to 96,286 reported cases and 2,877reported deaths the previous week.
The bulk of infections are in Singapore, Indonesia, and the Philippines. Indonesia and the Philippines account for 93% of reported deaths in the region.
Thailand and Vietnam have resumed elective surgeries, while most other key ASEAN countries continue to place a hold on non-emergency surgery. Starting June 2, Singapore began allowing certain procedures, including cancer screening, surgical operations for advanced cataracts, flu vaccinations and dental procedures. Malaysia and the Philippines are beginning to plan for the resumption of elective surgery once recovery milestones are met.
Indonesia is preparing to implement a "new normal" whereby most non-essential businesses, malls, and places of worship can operate with strict health protocols.
Singapore and China began a "fast-lane" travel arrangement for official and business purposes between the two countries. Singapore is in discussion with other countries such as Malaysia, New Zealand, and South Korea on similar arrangements.
Malaysia replaced its Conditional Movement Control Order (CMCO) with a Recovery Movement Control Order (RMCO) through August 31 that has looser restrictions. Most interstate travel will be permitted, but international travel remains prohibited.
The Philippines resumed domestic flights last week as Metro Manila transitions to a more relaxed general community quarantine (GCQ). International flights remain suspended except repatriation flights to take foreigners home. The government put out a notice that Manila and nearby cities could revert to a stricter lockdown after June 15 if cases continue to surge.
Thailand has set July 1 as the date for the lifting of all business and activity lockdowns surrounding the COVID-19 pandemic. This will include lifting the ban on international travel, as well as the end of emergency decree and curfew.
Vietnam has gone nearly two months with no new community transmissions of COVID-19. It announced that remaining businesses will be allowed to reopen. It is developing a plan for the gradual reopening of international flights.
Staff Contact: Phil Agress (

[email protected]

)
Europe
Europe continues to improve. New daily cases and total cases are stabilizing.  Spain is slightly ahead in the number of cases, but UK, France and Italy all report more deaths.  Mortality rates and deaths per day in most EU countries still appear to remain on a downward trend.  Although not in the EU, Russia's reported numbers on COVID are continuing to get dramatically worse each week, and they may end up being the worst in Europe.  (Russia remains the COVID hot spot in Europe, now reporting 493,657  cases, with interestingly just 6,358 reported deaths).  This remains a concern for EU countries who are looking to reopen borders.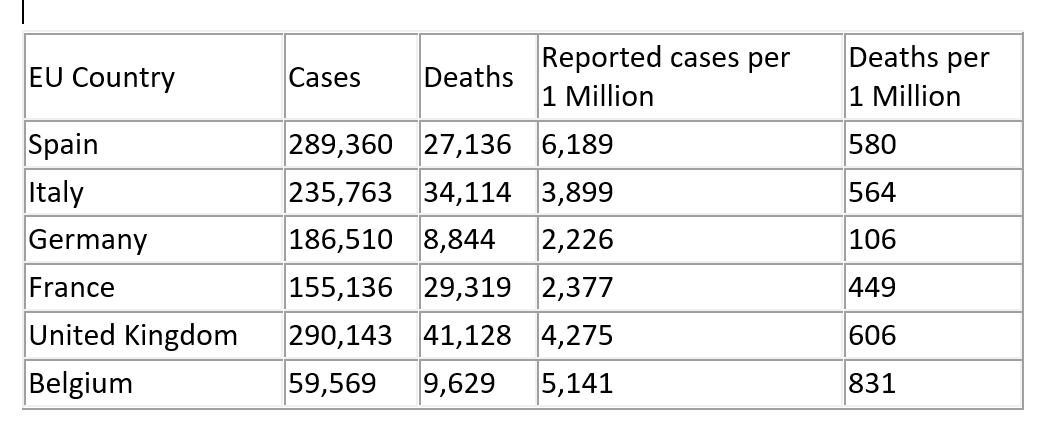 New daily cases, which tends to show which countries are increasing in COVID incidence is as follows:  Spain 314; Italy 202; Germany 5; France 5452; UK 1,003; Belgium 132. (All but France and Belgium have decreased from last week).  
New deaths per day are as follows:  Spain 1; Italy 71; Germany 13; France 23; UK 245; Belgium 10 (All have decreased from last week).
The EU's coronavirus recovery package is now on track to be supported by all member states. Called Next Generation EU, the package consists of 500 billion Euro in grants and another 250 billion Euro in loans.  Initially suggested by France and Germany, the package contains linkages to innovation, digitalization and green technology development.  The EU Commission will raise the necessary funds on international markets leveraging its AAA rating and then allocate to member states that are hardest hit by COVID.
Consumer prices are expected to fall significantly in the EU, while spending on coronavirus relief measures will push the deficits of European governments from just 0.6% of GDP in 2019 to around 8.5% this year. The Commission predicts that EU unemployment will increase from 6.7% in 2019 to 9% this year.
The UK is likely to be one of the hardest hit countries in the EU from COVID.  Britain's slump is likely to manifest as an 11.5% decline, which would outstrip similarly gloomy forecasts for other larger EU economies such as Spain, Italy, France and Germany.
The UK government has begun a large-scale study of coronavirus immunity, which is intended to track the spread of the virus through the general population.  Persons who test positive for COVID in England will be contacted by one of the country's 25,000 tracers. 
The UK has spent over 200 Million (Pounds) setting up and running temporary hospitals to deal with COVID. 
The NHS is warning about severe backlogs in treatment as hospitals re-open, in one instance forecasting that 10 million people could be encountering long delays in access to treatment by the end of the year. 
UK business organizations are becoming more public in their statements that they do not want a no-deal Brexit, and that a no deal scenario would prove extremely harmful to British industry and impede COVID-19 recovery efforts. 
From June 15, face coverings are compulsory on public transport in the UK.  On June 8, London began limited re-opening for some workers. The UK now has a mandatory 14-day quarantine for incoming international travelers.  Incoming travelers must provide officials with their plans for self-isolation or risk being routed to government provided facilities. There are some exceptions for healthcare and other workers deemed essential. ABHI has confirmed that individuals with specialist skills within the medical device sector are exempt from this rule. The policy will be reviewed and possibly modified during the week of June 28.  
German Chancellor Merkel indicated measures to fight COVID related economic decline will address both short and longer term economic issues, combining for 130 billion euro.  She also extended social distancing rules to June 29. 
German hospitals are re-opening and there is a large backlog for elective procedures.  Patients are being reassured through public affairs messages of the measures that are in place to ensure safety from COVID.  But there remains hesitancy for patients to undertake elective procedures at pre-Covid levels.
While Germany has decided to lift the worldwide travel warning for 29 European countries as of June 15 and replace it with 'travel warnings,' Germany has extended to August 31 its travel warning for tourists for more than 160 countries outside the EU. 
German exports fell 31.1% in April as a result of the COVID crisis.  This was the largest month to month decline since 1950 when records of this type started to be kept. 
Germany intends to present its Corona tracing app next week for use on all mobile platforms.  
France proceeded to phase 2 of its re-opening, including an end to the 100km travel limit.  Paris, however, remains one step behind the rest of the country as it has heightened concerns.  The Eiffel Tower is expected to re-open to the public on June 25. 
France's daily death toll from COVID has remained below 100 for the seventh day in a row. 
France has cancelled its July 14 military parade over Covid concerns. 
The Bank of France indicated the French economy will shrink by about 10 percent this year due to COVID   and will take until mid-2022 to recover.  Unemployment is expected to reach as high as 11.5 percent in mid-2021 and then improve.  . 
We have heard one instance of a potential issue with products being blocked by the EU's export restriction on PPE. If you are experiencing difficulties with this restriction, please let us know immediately.
The proposed one-year suspension of implementation of the EU's MDR is now final.  The measure extends until May 26, 2021 the date of application of the current regulation but does not extend every target deadline referenced in the law.  It also creates the possibility of EU-wide derogations for specific medical devices.
https://www.medtecheurope.org/news-and-events/press/medtech-europe-welcomes-the-amendment-of-the-medical-devices-regulation-and-urges-similar-action-for-the-ivd-regulation/.
AdvaMed's joint programs in Germany and the UK continue to provide COVID-19 updates and support on MDR implementation.
Resources:
https://www.medtecheurope.org/resource-library/european-industry-trade-and-supply-chain-needs-to-respond-to-covid-19/;
https://www.medtecheurope.org/wp-content/uploads/2020/03 European_Union_Emergency_Support_Instrument_for_the_healthcare_sector_-_questions_and_answers.pdf;
Staff Contact:  Joe Gatewood (

[email protected]

)
Latin America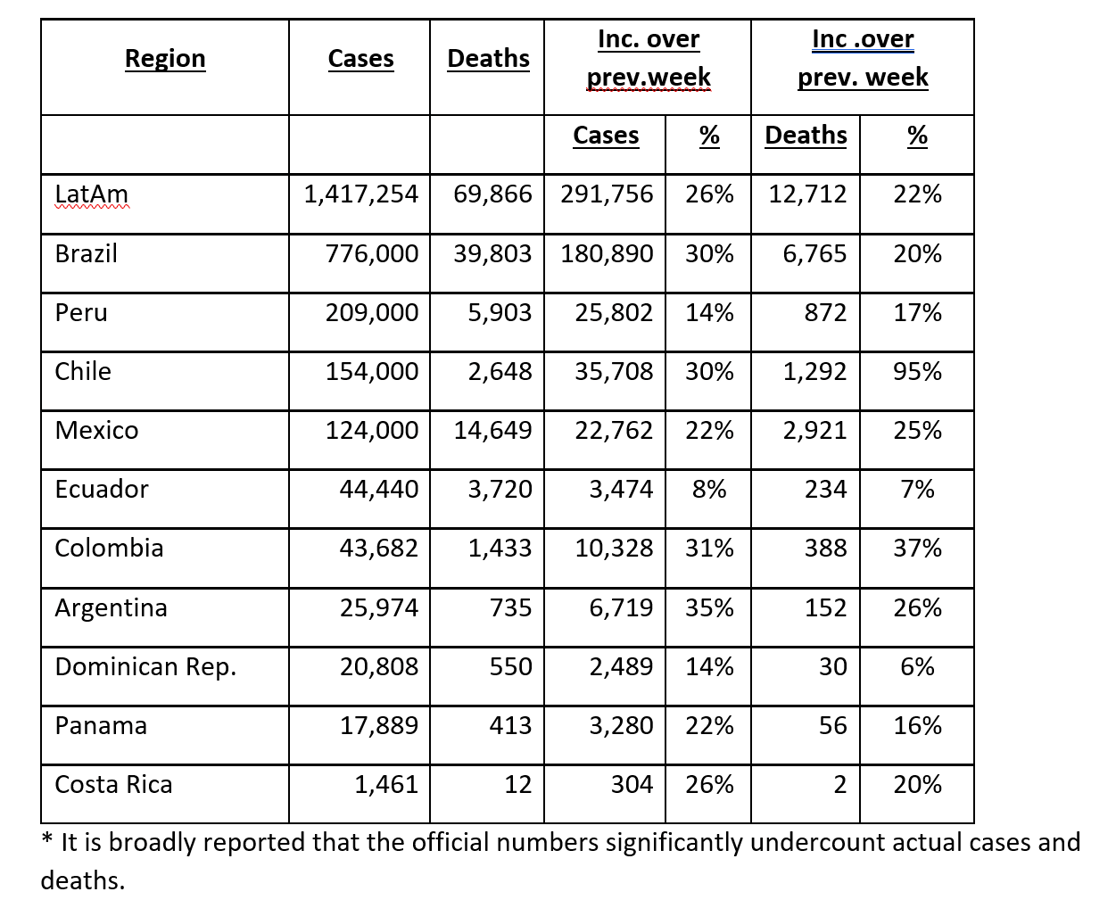 Regional
COVID-19 still spreading in Latin America but decelerating with a 26% increase over the previous week vs a 37% increase the week prior.
Brazil
The majority of the 300+ COVID-19 measures that the Brazilian government has implemented have been deemed positive for the medtech sector response.
Concern remains regarding the dozen+ proposed related bills on the economic regulation of medical technology.
Mexico
AdvaMed member and supplier production in the Mexico border states has remained uninterrupted for the past week.
Staff Contact: Steven Bipes

[email protected]
Other Highlights (Source: Prospectiva)
Argentina: Quarantine extended; provinces see lift in lockdown measures
Bolivia: In cost reduction efforts, government eliminates three ministries to fund COVID-19 fight
Brazil: Government to participate in Vaccine Accelerator; BRL strengthens against the USD
Chile: Government appoints new ministers amid crisis
Colombia: Congress representatives deliver report arguing that government efforts have not been enough to tackle the pandemic
Ecuador: Central Bank projects between 7.3 and 9.6% decrease in GDP
Mexico: National economic reactivation begins amidst tensions between the federal and local governments
Paraguay: Government considers postponing phase 3 of smart quarantine
Peru: State of health emergency extended through September 7
Uruguay: As bilateral commission advances, Rivera border city becomes the virus epicenter