AdvaMed recognizes that its members, particularly those with global government affairs responsibilities, are tracking COVID-19 related developments around the world to assess the public health and economic impacts on their businesses. Knowing that companies are consuming information from a variety of sources, AdvaMed's global team would like to provide members with a weekly snapshot of the key statistics, policy developments and advocacy initiatives underway in our priority markets.  If you have any suggestions as we ramp up this work stream, we welcome your feedback.
Global
Weekly COVID-19 statistics- global cases reached 8.4 million and deaths exceeded 450,000. The countries with the most reported cases are: the U.S. (2.1 million), Brazil (955,000), Russia (560,000) and India (367,000).
U.S. cases exceeded 2.1 million, with deaths increasing to 117,832.
Staff Contact: Ralph Ives (

[email protected]

).
China
Weekly COVID-19 statistics – aside from the recent outbreak in Beijing, all other areas of China continue to report only a few cases each day and are mostly linked to foreign arrivals. Total cases stand at 84,463 and deaths at about 4,638.
This week, Beijing experienced an outbreak emanating from the massive Xinfadi food market in the city's southwest. Xinfadi supplies 80% of Beijing's fresh food supply. Beijing has begun mass testing of residents in neighborhoods surrounding the market, with 120 positive cases so far. To stop further spread in the Chinese capital, Beijing authorities have locked down neighborhoods surrounding Xinfadi, restricted travel out of the city, and closed schools.
China is gradually allowing an increased number of inbound flights from overseas. Foreign airlines are allowed to conduct one commercial passenger flight per week to the Chinese mainland, with the possibility of increasing to two per week if no passengers test positive for COVID-19. This past Monday, the U.S. and China announced that weekly flights between the two countries will increase from two to four.
Overall, manufacturing remains at 80-85% of the level before the outbreak. Consumer spending still remains below pre-pandemic levels, although the government is taking policy steps to boost consumer spending and sentiment.
Elective/regular surgeries and other medical services are back to normal. Beijing is admitting all Covid patients to Ditan Hospital in the city's northeast. To our understanding, Beijing's other hospitals have not paused elective surgeries as of now.
The Phase One trade agreement is proceeding with implementation. China's purchases of U.S. farm products are picking up on account of contracts the Chinese signed in recent months and the U.S. harvest season. China is lagging in its additional purchases of energy products and manufactured goods (including medical devices), however.
Staff Contact: Ralph Ives (

[email protected]

).
India
Weekly COVID-19 statistics –160,384 active cases/12,237 deaths as compared to 137,448 active cases with 8,102 deaths reported last week.
The alarming increase in the number of cases has prompted Prime Minister Narendra Modi to call a meeting with all state chief ministers to ensure alignment on further containment policies and economic recovery plans, especially in the hardest-hit business districts and manufacturing hubs.
Chennai and three adjacent districts have re-imposed strict lockdown orders from June 19 to 30, which may pose fresh challenges for businesses that have just reopened.
Even as the country is witnessing spikes in cases every day, the government has maintained that the country is still not witnessing community transmission of the virus.
The Reserve Bank of India has signaled that the government's final stimulus package is likely to come out in September-October.
The government constituted various high-level groups to foster indigenous innovation, promote research, provide policy advice and render advice on technology to address the outbreak of COVID-19.
The Indian Council for Medical Research (ICMR) issued an advisory on antigen detection tests for COVID-19.
The Health Ministry recommended Remdesivir for moderate COVID-19 cases.
Spotlight on Support for Domestic SMEs – On June 8, two cities, Chennai and Bengaluru, rolled out customs reforms to provide fast-track clearance for mechanical, electrical, and electronic machinery goods to minimize costs and time for importers. If successful, the pilot scheme could be scaled nationwide. While some multinationals may stand to benefit from the new rules, it appears primarily designed to support domestic SMEs, 38 percent of which have run out of cash to fund their operations amid weak consumer demand and cautious investor sentiment.
Bilateral Cooperation – U.S.-India engagement remains steady, punctuated by positive areas of cooperation in the healthcare sector. On Monday, India received its first tranche of 100 ventilators shipped by the United States and will receive an additional 100 machines in the coming days.
Staff Contact: Abby Pratt (

[email protected]

).
Japan
Weekly COVID-19 statistics – 18,471 reported cases and 950 reported deaths compared to 18,060 reported cases and 935 reported deaths the previous week.
Tokyo deactivated its virus alert and moved to the third and final stage of its plan to reboot businesses and reopen society. Under Phase 3, nearly all business closures are being lifted. Restaurants and bars can stay open until midnight, and public events will be limited to one thousand people.
Japan plans to ease its coronavirus travel restrictions this summer by letting in up to 250 business travelers per day from Australia, New Zealand, Thailand, and Vietnam. The quota will initially apply to businesspeople such as executives and engineers.
Japan currently has an entry ban in place for 111 countries and regions, with foreign travelers who have been to any of those areas within the last two weeks being turned away.
Japan's Ministry of Health announced that it will adopt priority regulatory review procedures for new COVID-related medical devices.
Japan will ban foreign companies from purchasing advanced medical device companies that are deemed essential to the national security in the fight against Covid-19. This measure is based on concerns about China but applies to companies from all countries. The government aims to ensure stable supply of essential devices that are vulnerable to contamination by infection, such as implants and dialyzers.
Staff Contact: Phil Agress (

[email protected]

).
Korea
Weekly COVID-19 statistics – South Korea reported an uptick in the number of new coronavirus cases to 59. This is the first time the number has gone over 50 in six days. Authorities are continuing to monitor and do contact tracing. Daily cases (59) are up from last week. There are 12,257 cases, 1,177 active with 280 deaths. Current daily death totals, however, are very low at just 1.
The South Korea Center for Disease Control (KCDC) has warned of a summer wave of COVID that will be triggered by greater travel within the country for summer vacations. They are currently working on guidance for Korea beaches and more detailed guidances for outdoor gatherings. They also noted they could impose stricter travel measures if they see a spike in infection rates during the vacation season.
Korea continues to exhibit one of the lowest global death rates from COVID at just 2.4%.
South Korea now requires QR code entry logs at facilities deemed to pose a high risk of creating COVID-19 clusters. It is a step intended to bolster the country's contact-tracing capabilities and study virus transmission routes. Around 80,000 facilities across the nation — including bars, nightclubs and singing rooms — are now required to install QR code readers. Anyone who wishes to enter first needs to scan a QR code using a smartphone app. KCDC indicated the personal data associated with the QR codes will be encrypted and destroyed after four weeks. The digital information will only be used for contact tracing if someone tests positive. Facilities without QR code logs and written visitor lists face potentially large fines.
The Korean economy contracted by 1.4% in Q1. The Korean government is projecting negative growth, as is the IMF. More than 4 million South Koreans have been unemployed or underemployed for a third consecutive month. One key jobless rate measure stayed above 14 percent over the past three months, unprecedented for South Korea.
The Bank of Korea will continue to freeze its key interest rate at .5%, but will consider further reductions in the near future, depending on economic conditions.
South Korea maintains its 2-week quarantine for all other incoming international travelers and a requirement for all inbound flights to check passengers' temperatures. Anyone with a temperature over 37.5 degrees Celsius (99.5 Fahrenheit) is denied entry. Korea has still not issued any guidance on an exemption that is supposedly available. Korea has indicated all US inbound travelers will be tested for symptoms prior to being moved to quarantine.
Korea is considering a proposal that would potentially reduce the price of certain cardiac stents. AdvaMed continues to be in touch with members and the medtech association in Korea and is prepared to engage at the appropriate time if necessary.
Resources: http://ncov.mohw.go.kr/en/.
Staff Contact: Joseph Gatewood (

[email protected]

).
ASEAN
Weekly COVID-19 statistics – 121,434 reported cases and 3,669 reported deaths compared to 107,356 reported cases and 3,149 reported deaths the previous week.
The bulk of infections are in Singapore, Indonesia, and the Philippines.
Elective surgeries have resumed in Thailand and in most hospitals in Vietnam. Singapore now allows certain procedures, including cancer screening, surgical operations for advanced cataracts, flu vaccinations and dental procedures. Malaysia and the Philippines are beginning to plan for the resumption of elective surgery once recovery milestones are met.
Indonesia has lifted the ban on export of medical devices for COVID-19 purposes. The Minister of Trade stated that the availability of antiseptics, raw materials for masks, PPE, and masks is currently adequate for Indonesia's domestic needs.
Indonesia's government is drawing up plans to permit limited international travel to China, Japan, South Korea, and Australia. Negotiations with those countries have yet to begin and could face significant hurdles given that Indonesia's COVID-19 transmission rates remain high.
Singapore and China began a "fast-lane" travel arrangement for official and business purposes between the two countries. Singapore is in discussion with other countries such as Malaysia, New Zealand, and South Korea on similar arrangements.
Malaysia replaced its Conditional Movement Control Order (CMCO) with a Recovery Movement Control Order (RMCO) through August 31 that has looser restrictions. Most interstate travel will be permitted, but international travel remains prohibited.
The Philippines resumed domestic flights as Metro Manila transitions to a more relaxed general community quarantine (GCQ). International flights remain suspended except repatriation flights to take foreigners home. The government put out a notice that Manila and nearby cities could revert to a stricter lockdown after June 15 if cases continue to surge. Cebu City has been put back to the most stringent enhanced community quarantine until June 30 due to the increasing number of new COVID-19 cases and widespread community transmission.
Singapore's health ministry announced that, beginning June 19, small gatherings will be permitted, and restaurants and shops can reopen. Social distancing requirements will remain, but the announcement marks a major easing in COVID-19 restrictions and reflects a decline in worker dormitory cases and a stable level of other cases.
Thailand lifted a nationwide curfew after more than two months. As of June 15, 95% of Thailand's businesses can reopen as the country enters Phase 4 of the easing of Covid-19 restrictions.
Vietnam has allowed remaining businesses to reopen. It is developing a plan for the gradual reopening of international flights.
Staff Contact: Phil Agress (

[email protected]

)
EUROPE
Europe continues to improve. New daily cases and total cases are stabilizing or decreasing.  Spain is slightly ahead in the number of cases, but UK, France and Italy all report more deaths.  Mortality rates and deaths per day in most EU countries still appear to remain on a downward trend.  Italy which was in such dire straits not so long ago, has succeeded in flattening its case and deaths.  The use of strict isolation and travel restriction measures in Italy seems to have been key to this success.  Although not in the EU, Russia's reported numbers on COVID are continuing to get dramatically worse each week, and they may end up being the worst in Europe.  (Russia remains the COVID hot spot in Europe, now reporting 561,091 cases (over 70,000 increase from last week), with interestingly just 7,660 reported deaths).  This remains a concern for EU countries who are looking to reopen borders. 

New daily cases, which tends to show which countries are increasing in COVID incidence is as follows:  Spain 355; Italy 328; Germany 1,122; France 458; UK 1.115; Belgium 89. (Some of these rates have increased from last week despite progress being shown).  Germany is showing a notable spike in new cases, while Italy, France and Spain appear to be flattened.   
New deaths per day are as follows:  Spain 0; Italy 43; Germany 17; France 28; UK 184; Belgium 12.  While some have increased slightly from last week, overall trends remain positive. 
The EU's coronavirus recovery package is now on track to be supported by all member states.  Called Next Generation EU, the package consists of 500 billion Euro in grants and another 250 billion Euro in loans.  Initially suggested by France and Germany, the package contains linkages to innovation, digitalization and green technology development.  The EU Commission will raise the necessary funds on international markets leveraging its AAA rating and then allocate to member states that are hardest hit by COVID.  EU leaders, including Angela Merkel, have urged the EU to adopt the recovery package in July. 
Reuters is reporting that Johnson & Johnson is in talks with multiple governments and global organizations as it seeks to develop a Covid-19 vaccine and a potential EU supply deal. 
Consumer prices are expected to fall significantly in the EU, while spending on coronavirus relief measures will push the deficits of European governments from just 0.6% of GDP in 2019 to around 8.5% this year. The Commission predicts that EU unemployment will increase from 6.7% in 2019 to 9% this year.
The UK will be one of the hardest hit countries in the EU from COVID.  Britain's slump is likely to manifest as an 11.5% decline, which would outstrip similarly gloomy forecasts for other larger EU economies such as Spain, Italy, France and Germany. Half of the UK workforce is still working remotely. 
The Bank of England will invest an extra £100bn into the UK economy to help fight the "unprecedented" coronavirus-induced downturn.
In a major U-turn, the UK is abandoning the way its current coronavirus-tracing app works and shifting to a model based on technology provided by Apple and Google. It comes after research revealed more than one in four people who test positive cannot be reached by the test and trace system in England.
The NHS is warning about severe backlogs in treatment as hospitals re-open, in one instance forecasting that 10 million people could be encountering long delays in access to treatment by the end of the year.  A recent proposal to route capacity through private hospitals appears to be stalled.  
From June 15, face coverings are compulsory on public transport in the UK.  The UK now has a mandatory 14-day quarantine for incoming international travelers.  Incoming travelers must provide officials with their plans for self-isolation or risk being routed to government provided facilities. There are some exceptions for healthcare and other workers deemed essential. ABHI has confirmed that individuals with specialist skills within the medical device sector are exempt from this rule. The policy will be reviewed and possibly modified during the week of June 28.  
German Chancellor Merkel indicated measures to fight COVID related economic decline will address both short and longer term economic issues, combining for 130 billion euro.  She also extended social distancing rules to June 29. 
German hospitals are re-opening and there is a large backlog for elective procedures.  Patients are being reassured through public affairs messages of the measures that are in place to ensure safety from COVID.  But there remains hesitancy for patients to undertake elective procedures at pre-Covid levels.
Also in Germany, 7,000 people have been quarantined in North Rhein Westphalia, and schools have been closed.  The outbreak has been linked to a meat processing plant where 657 cases have been confirmed.  One district in Berlin is experiencing a resurgence in new cases.  Police are guarding several neighborhood blocks in that area to keep the quarantine in place and social workers are providing aid to the residents.  
France proceeded to phase 2 of its re-opening, including an end to the 100km travel limit.  Paris, however, remains one step behind the rest of the country as it has heightened concerns.  The Eiffel Tower is expected to re-open to the public on June 25, with stair access only, no elevators. 
France has cancelled its July 14 military parade over Covid concerns. 
The Bank of France indicated the French economy will shrink by about 10 percent this year due to COVID   and will take until mid-2022 to recover.  Unemployment is expected to reach as high as 11.5 percent in mid-2021 and then improve. 
Health care workers in France have begun to protest over the government's initial response.  The focus of the protests related to patients who were seeking treatment and were apparently turned away from hospitals. 
Within the last 2 months, a company in France has developed and begun manufacture of a cloth material with a virus killing membrane.  The cloth can be used in PPE and other applications
We have heard one instance of a potential issue with products being blocked by the EU's export restriction on PPE. If you are experiencing difficulties with this restriction, please let us know immediately.
The proposed one-year suspension of implementation of the EU's MDR is now final.  The measure extends until May 26, 2021 the date of application of the current regulation but does not extend every target deadline referenced in the law.  It also creates the possibility of EU-wide derogations for specific medical devices.
Latin America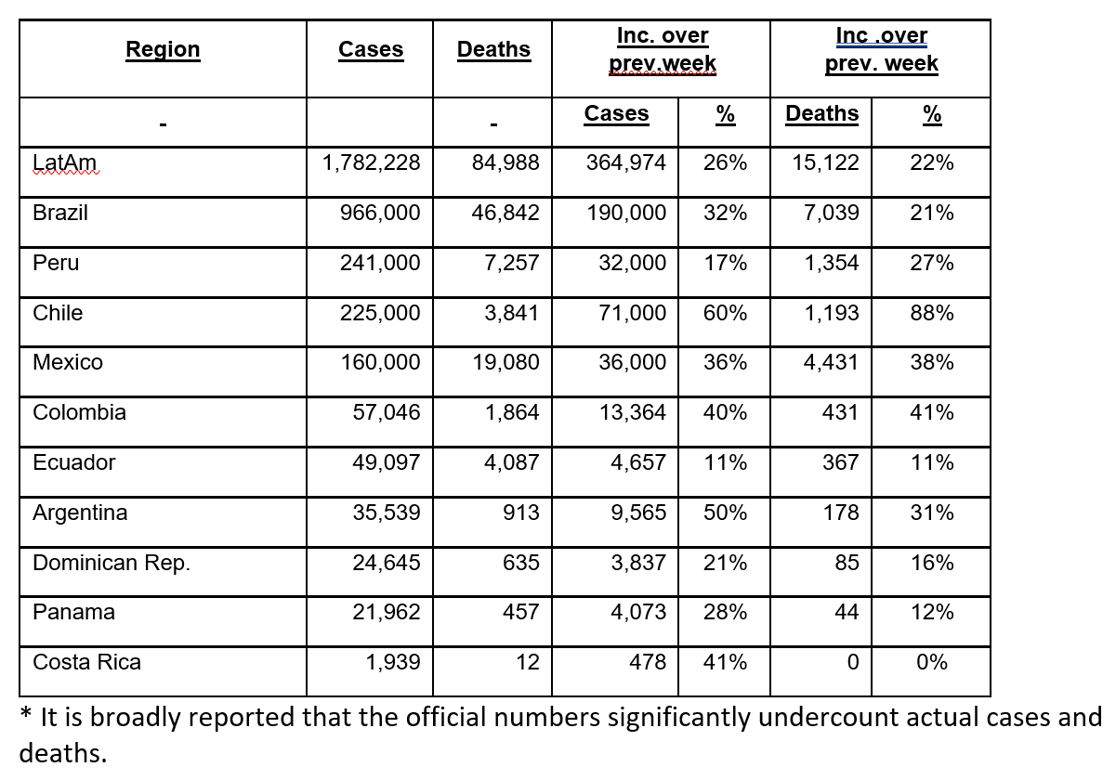 Regional
COVID-19 still spreading in Latin America at the same 26% increase over the previous week.
Other Highlights (Source: Prospectiva)
ARGENTINA: Reopening of some provinces and sectors continue while others face extension of lockdown measures.
BOLIVIA: Strict quarantine enacted at La Paz after increase of COVID-19 cases.
BRAZIL: Discussions over the publication of COVID-19 data continues
CHILE: Piñera asks Minister of Health to step down after claims of mismanagement
COLOMBIA: Ministry launches pilot plan for new strategy
ECUADOR: Government begins renegotiation of external debt.
MEXICO: Mexico obtained a credit from the World Bank for$1 billion USD.
PARAGUAY: Government authorizes stage 3 of smart quarantine amidst rise of confirmed cases.
PERU: COVID tests carried out in the private sector will no longer be on the official count.
URUGUAY: Government working on a new economic package to boost employment.
Staff: Steven Bipes ([email protected])