AdvaMed recognizes that its members, particularly those with global government affairs responsibilities, are tracking COVID-19 related developments around the world to assess the public health and economic impacts on their businesses. Knowing that companies are consuming information from a variety of sources, AdvaMed's global team would like to provide members with a weekly snapshot of the key statistics, policy developments and advocacy initiatives underway in our priority markets.  If you have any suggestions, we welcome your feedback.
Global
Weekly COVID-19 statistics- global cases reached 24.28 million, nearly a 2 million increase over the previous week. Deaths around the world exceeded 827,000 The countries with the most reported cases continue to be the U.S. (million), Brazil (4 million), and India (3.8 million). As a whole, Latin America continues to be one of the worst affected regions, with more than 6 million reported cases to date.
U.S. cases exceeded 6.1 million with deaths increasing to 186,000.
Staff Contact: Ralph Ives (

[email protected]

).
China
Weekly COVID-19 statistics –China's total COVID cases now stand at 89,962 (an increase of 150 over the previous week) and deaths at 4,727 (an increase of 12 over the previous week).With localized outbreaks now under control, most new cases have been linked to foreign arrivals.
The State Council has called for urgent preparations to combat the virus during the autumn and winter months. Priority measures include: enhanced customs inspections (notably of "carrier" foods like fresh seafood imports), more efficient and accurate nucleic acid testing platforms, and more rigorous management of quarantined areas.
The Chinese economy performed better than expected in August, according to government statistics. Exports experienced a noticeable rebound in July and August, as other large manufacturing nations struggle with COVID fallout. Consumption levels have continued to rise.
Anecdotal evidence suggests that hospitals have been gradually resuming elective/regular surgeries and operations appear to be at 80-90% of pre-COVID levels, with this range varying by particular medical condition of the patient and geographical area.
This week, direct flights to Beijing resumed from eight countries: Thailand, Cambodia, Pakistan, Greece, Denmark, Austria, Sweden, Canada. Previously, all international flights destined for Beijing had to transit through another Chinese city beforehand.
While U.S.-China relations remain in a downward trajectory with President Trump signing executive orders targeting Chinese apps WeChat and TikTok. The Phase One trade deal, however, remains intact and has emerged as a key area of cooperation. USTR Lighthizer and Secretary Mnuchin spoke with Vice Premier Liu He on Aug. 25 to discuss Phase One implementation from a high level.
Staff Contact: Kyle Churchman (

[email protected]

)
India
Japan
Weekly COVID-19 statistics – 71,118 reported cases and 1,347 reported deaths compared to 66,481 reported cases and 1,254 reported deaths the previous week.
Despite the growing number of cases, Prime Minister Abe said he will not reinstate emergency measures.
The growing caseload has had a severe impact on Japan's hospitals. Some hospitals are cutting back or halting elective surgeries in order to deal with the influx of new cases. Nearly 70% of Japan's hospitals are now operating in the red.
According to a survey conducted by the Japan Public Hospital Federation of 1,481 member hospitals, patient visits in May 2020 were down by 24.9 percent, compared with one year ago.
The majority of new cases are in Tokyo and are affecting people in their 20s and 30s.
Japan and Vietnam have agreed to ease bilateral travel restrictions in stages. Vietnam will first accept 440 Japanese business travelers on three charter flights. The travelers will be required to undergo tests upon arrival and be quarantined for two weeks at hotels. Thailand will likely be next in line for eased restrictions, followed by Australia and New Zealand.
Japan currently has an entry ban in place for 111 countries and regions, with foreign travelers who have been to any of those areas within the last two weeks being turned away.
Japan's Ministry of Health has adopted priority regulatory review procedures for new COVID-related medical devices.
Japan will ban foreign companies from purchasing advanced medical device companies that are deemed essential to the national security in the fight against Covid-19. This measure is based on concerns about China but applies to companies from all countries. The government aims to ensure stable supply of essential devices that are vulnerable to contamination by infection, such as implants and dialyzers.
Staff Contact: Phil Agress (

[email protected]

).
Korea
South Korea's spike is easing, but still at a level higher than they would like to see. (198 new cases per day). This remains low compared to many other countries.
There are 20,842 cases, 4,728 active cases, and 331 deaths. Korea is reporting 2 deaths per day.
Korea's National Assembly has decided to shut down today after a reporter who covered yesterday's Democratic Party's Supreme Council meeting was confirmed to have the virus. Around 30 people including Chairman Lee Hae-chan and floor leader Rep. Kim Tae-nyeon had attended the meeting.
South Korea's top economic policymaker expressed concerns over the resurgence of the novel coronavirus in the country hurting growth and said efforts are under way to bolster the economy during an online meeting with a global credit appraiser.
South Korea's major hospitals are maintaining scaled down operations, as trainee doctors have yet to return to work despite an agreement reached to end their weekslong strike, medical sources said Saturday. Large university hospitals have reduced treatments and surgeries and have restricted the number of patients t
they admit, as thousands of interns and resident doctors have taken part in the walkout since Aug. 21
Korea is providing a financial package to inject 40 trillion won ($33.8 billion) into 1,000 selected innovative businesses over the next 3 years. The plan is designed as the final piece necessary to finalize and align the so called "Korean New Deal" incentives which are so far worth 160 trillion won and enable those companies to have unlimited loan credit when borrowing from the Korea Development Bank.
The South Korean government has announced it will create at least 50 new job categories in the upcoming years, while providing necessary legal and fiscal support to tide over the worsening employment situation. It also pledged to inject 4.6 trillion won ($3.89 billion) into export-oriented service industries and adjust the government's fiscal support regulations which have been focused on the manufacturing sector.
South Korea maintains its 2-week quarantine for all other incoming international travelers and a requirement for all inbound flights to check passengers' temperatures. Anyone with a temperature over 37.5 degrees Celsius (99.5 Fahrenheit) is denied entry. Korea has not issued any guidance on an exemption that is supposedly available. Korea has indicated all US inbound travelers will be tested for symptoms prior to being moved to quarantine.
Korea appears to be moving toward implementation of a proposal that would potentially reduce the price of certain cardiac stents. AdvaMed is in touch with members and the medtech association in Korea and has had preliminary discussions with the US Government on this topic. Please contact Joseph Gatewood (

[email protected]

) if you have an interest in this matter and are not already engaged.
Resources: http://ncov.mohw.go.kr/en/.
Staff Contact: Joseph Gatewood (

[email protected]

).
ASEAN
Weekly COVID-19 statistics – ASEAN now has 484,862 reported cases and 11,675 reported deaths compared to 439,797 reported cases and 10,547 reported deaths the previous week.
The Philippines and Indonesia account for 97.7% of the deaths from COVID-19 in the region. Indonesia's total COVID-19 deaths exceed 7,700, the highest level in East Asia. The Philippines reports 3.668 deaths.
Cambodia, and Laos have each reported zero deaths, while Brunei has reported 3 deaths, Myanmar has reported 6 deaths, Singapore has reported 27 deaths (despite having over 56,000 cases), and Thailand has reported 58 deaths. All of these totals are unchanged from the previous week.
Vietnam's outbreak in Danang several weeks ago followed 100 days without any locally transmitted cases and led to its first COVID-19 fatalities (35 reported to date). Following strong measures to contain the outbreak, the number of cases in Vietnam grew by only 10 over the past week.
Elective surgeries have resumed in Thailand and Vietnam. Thailand has gone over 80 days without a single case of community transmission.
In Indonesia, provincial hospitals are resuming elective surgery with COVID-19 protocols in place.
Malaysia maintains limits on elective surgery except in emergency cases.
Singapore restricts most elective surgeries but allows certain procedures including cancer screening, surgical operations for advanced cataracts, flu vaccinations, and dental procedures. The government has lifted measures requiring doctors and healthcare workers in the public and private sectors to limit their movements across healthcare institutions.
Indonesia has lifted the ban on export of medical devices for COVID-19 purposes. At the same time, President Jokowi has called for an end to PPE imports as the country is capable of manufacturing them locally. Indonesia has produced its own rapid test called RI-GHA COVID-19.
Malaysia and Singapore partially reopened their border on August 10. Both governments have agreed to implement a Reciprocal Green Lane (RGL) and Periodic Commuting Arrangement (PCA). The RGL will enable cross-border travel for essential business and official purposes between both countries and the PCA will allow residents of Singapore and Malaysia who hold long-term immigration passes for business and work purposes in the other country to enter the country for work.
Malaysia announced that starting September 7 it will impose an entry ban on travelers from countries with more than 150,000 COVID-19 cases.
Singapore has agreed with Australia, Brunei, China, Malaysia, and Korea on fast-lane arrangements for essential travel.
Thailand had its first case of local coronavirus transmission after going 100 days without such a case.
The Thai Government adopted a fifth phase of lockdown easing, allowing most daily activities and businesses to resume. It has lifted the ban on international flights and allows certain categories of individuals from Japan, China, South Korea, Hong Kong, and Singapore to enter the country. The Civil Aviation Authority will still apply stringent international travel restrictions preventing the entry of tourists.
Thailand's Centre for Covid-19 Situation Administration (CCSA) approved another extension of the state of emergency nationwide until September 30.
Staff Contact: Phil Agress (

[email protected]

).
Europe  There is some spiking in the case rates across the EU as summer vacationers and partyer break quarantine and distancing restrictions. The UK new cases are down, reflecting their position as lagging by a few weeks behind the continental countries. Italy, France, Spain, and Germany are seeing daily increases in cases, but not yet at extreme rates. However, authorities in those countries are clearly concerned and are looking at stricter measures. Spain leads the EU in cases and the UK leads the EU in deaths, followed by Italy and France. Although not in the EU, Russia's reported numbers on COVID are problematic. Russia remains the COVID hot spot in Europe, now reporting 1,015,105 cases, with just 17,649 reported deaths.  By comparison, Italy, with much fewer (274,644) cases, reports 35,518 deaths.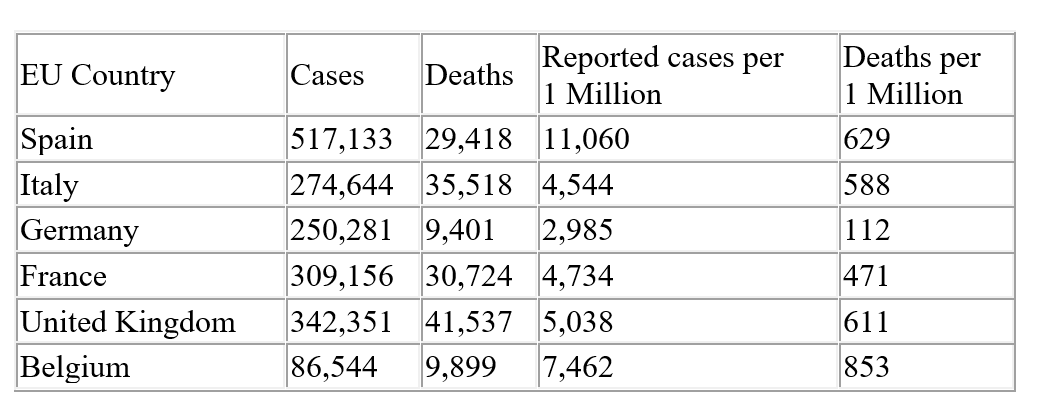 New daily cases, which tends to show which countries are increasing in COVID incidence is as follows: Spain 4,503 (up from 3,593 last week); Italy 1,733 (up from 1.367 last week) Germany 1,467 (up from 1,428 last week)); France 8,974 (up from 5,429 last week); UK 1,940 (up from 1,048 last week); Belgium 633 (up from 355 last week), Russia 4,676 (down from 4,828 last week). Most countries are experiencing spikes in new cases. France's level continues to be its highest since emerging from lockdown.
New deaths per day (which tend to lag any increased infection rates) remain low and are as follows: Spain 184; Italy 11; Germany 2; France 18; UK 10; Belgium 1.
The EU prohibition against inbound travelers from the US, Russia and Brazil based on COVID concerns remains in place. Inbound travel is permitted from any of 15 approved countries and the list is updated every two weeks. The EU is recommending member states gradually lift the travel restrictions for the following countries: Japan, Canada, Georgia, Australia, New Zealand, Rwanda, South Korea, Thailand, Tunisia and Uruguay. There has also been a recommendation to ease restrictions on China, subject to confirmation of reciprocity measures by China's government.
EU unemployment is a concern. July was marked by some relaxation of COVID-19 measures in many EU Member States, but despite this, the seasonally-adjusted unemployment rate in the eurozone went up to 7.9% from 7.7% in June. While these figures indicate a worsening situation, they remain below those seen during the European sovereign debt crisis, when unemployment reached a record high.
Across the EU, Belgium has banned travel to Paris due to COVID concerns. Spain has implemented stay at home orders to four million residents of Catalonia and is fighting back a second wave of the coronavirus — with no consensus on the way forward. The spread of the virus has accelerated in Spain this summer, with 3,594 new cases on Thursday. Germany is scheduled to ban large events until the end of the year amid fears of resurgence.
The Commission continues to have exploratory talks with vaccine companies to purchase a potential vaccine when it becomes ready. To date the Commission has reported positive talks with Sanofi-GSK, Johnson and Johnson, CureVac and AstraZeneca.
The recent contract between the EU and AstraZeneca will allow the purchase of a vaccine against COVID-19 for all the Member States of the EU as well as the donation to lower and middle income countries or the re-direction to other European countries.
The European Court of Justice has struck down the EU-US Privacy Shield law based on arguments from an EU plaintiff that the US security laws did not sufficiently protect EU citizens. Commerce Secretary Wilbur Ross expressed 'deep disappointment' in the ruling and said he would work with the EU to limit any negative consequences. AdvaMed had a virtual meeting/discussion with the Dept. of Commerce to obtain the latest information on the situation. We are enabling our members to provide details of problems they are experiencing directly to Commerce. There are discussions ongoing between the US and the EU Commission to try to find a solution to address the ECJ decision's dictates. We are continuing to discuss these issues in the DSPWG and looking for ways to assist members. We will be scheduling an informational webinar soon as EU Member States and regional authorities struggle to issue guidance.
In the UK, the NHS is preparing to spend up to £10 billion in private hospitals over four years in an effort to bring waiting lists down. The outsourced work aims to cut waiting lists, which are forecast "to increase as a result of Covid-19 interrupting and reducing NHS capacity". It will include testing and imaging and inpatient and outpatient treatment for urgent planned care and cancer treatment.
The Department of Health and Social Care has announced £500m of funding for quick result covid-19 test trials.
The UK government has expressed concerns about a rise in Covid-19 hospital admissions in France and Spain, concerned that young people could be infecting the more vulnerable.
A leading Trust has said that NHS England's ambitions for 'near normal' service levels this autumn are unlikely to be achieved, with current poor performance for waiting times for elective surgery, diagnostics and cancer treatment all expected to continue.
ABHI is conducting a comprehensive analysis of the re-start of elective procedures in each Trust and Health Board in the UK. The results can be found here: https://www.abhi.org.uk/membership/members-area/updates/2020/july/the-restart-of-planned-care/.
Germany has scrapped plans to discuss Brexit at a high-level diplomatic meeting. The message was fairly straightforward, stating "Since there hasn't been any tangible progress in EU-UK negotiations, the Brexit item was taken off the agenda." The move takes on greater significance given that Angela Merkel has been seen as a potential dealmaker in the talks. Both Germany and France have made recent public statements calling for 'concrete answers' from the UK.
A new survey shows that there is a very high level of support in Germany for Chancellor Angela Merkel's response to the pandemic. Overall satisfaction in Germany with the government is high.
Germany will prioritize strengthening its public health service and hire more workers, Chancellor Merkel stated this week. The government pledged to spend 4 Billion Euros by 2026 to allow for an additional 5,000 public health workers and digitalization of public health departments.
On September 3, as expected, France announced details of a 100 billion euro recovery plan. While all of the funds are earmarked for economic activity and to create jobs, a third of the funds are earmarked for green investment. This would come on top of existing measures that currently amount to around 460 billion euro.
A French company, Plaxtil, has developed a recycling process for COVID face masks. The masks are turned into a compound that is then used to make other products that can be used for a variety of purposes but are currently being put to use in the fight against COVID. Plaxtil says it has already recycled more than 50,000 masks, producing between 2,000 and 3,000 recycled products since the end of June.
Education Minister Jean-Michel Blanquer said on Friday that 22 schools had so far been closed across France and in French territories due to cases of Covid-19, just days after some 12 million students returned to school on Tuesday.
If you are experiencing difficulties with exporting PPE from the EU, please let us know immediately. We have not seen any instances of this occurring since an initial incident was resolved.
The proposed one-year suspension of implementation of the EU's MDR is now final. The measure extends until May 26, 2021 the date of application of the current regulation but does not extend every target deadline referenced in the law. It also creates the possibility of EU-wide derogations for specific medical devices.
https://www.medtecheurope.org/news-and-events/press/medtech-europe-welcomes-the-amendment-of-the-medical-devices-regulation-and-urges-similar-action-for-the-ivd-regulation/.
AdvaMed's joint programs in Germany and the UK continue to provide COVID-19 updates and support on MDR implementation. We recently hosted joint webinars and working group calls with ABHI to give members the latest information.
Latin America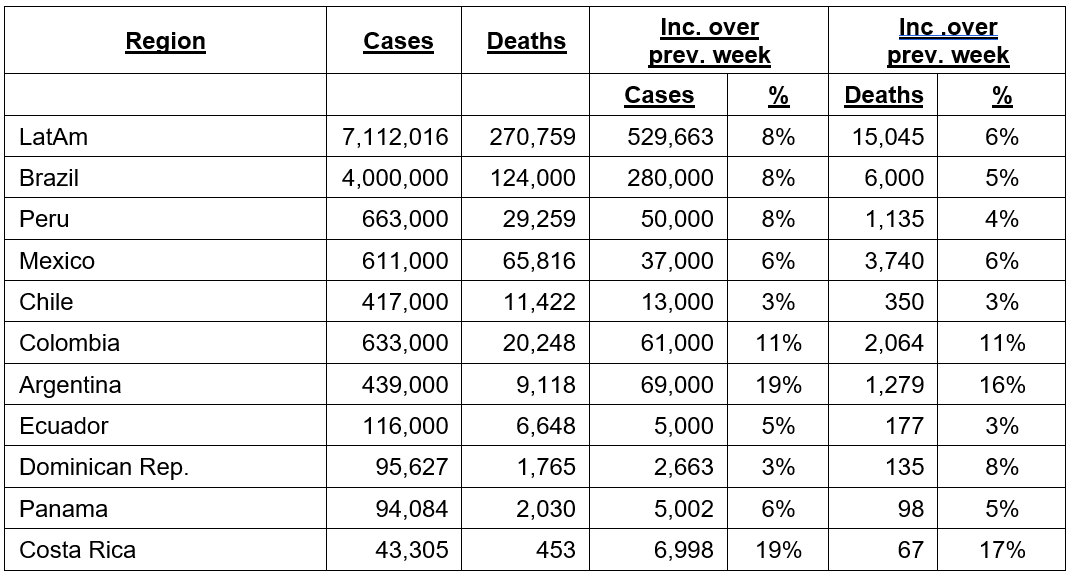 Regional
Total COVID-19 cases up 8% and deaths up 6% over the previous week.
WEEKLY HIGHLIGHTS –COVID 19
Argentina: Political tensions and virus, government extends an eased lockdown.
Bolivia: Gradual reopening plan announced for September.
Brazil: Economic reactivation announcement is postponed by Min. Economy.
Chile: Concerns over trucker's strike rise with fear supply chain interruption.
Colombia: Reopening accelerated as lockdowns are lifted or eased.
Ecuador: Agreement with IMF for a new fund-supported program was announced.
Mexico: The government announced economic support for 19 Mexican projects related to vaccines and treatments against COVID –19.
Paraguay: Concerns over low availability of COVID-19 test kits increases.
Peru: The state of national emergency and localized quarantine was extended until September 30.
Uruguay: National five-year budget in the spotlight as legislative approval is pending.
Staff Contact: Steven Bipes (

[email protected]

)